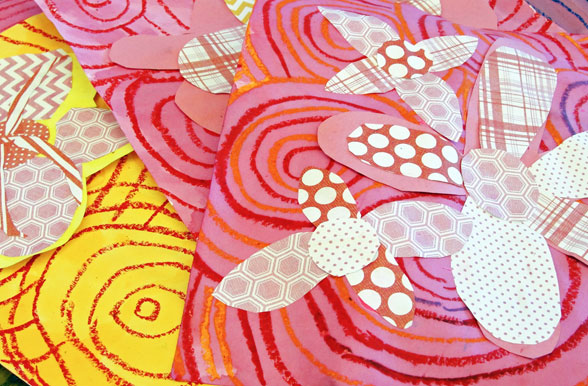 This Georgia O'Keeffe inspired art lesson is quick, easy lesson that all grade levels will enjoy. Needing a one-lesson project for the end of my sixth grade art rotation, I was inspired by an O'Keeffe art print on my wall. But instead of focusing on the center of a flower and creating a detailed drawing, I thought it might be fun to jazz up Georgia with some graphic qualities!
Jazzing up Georgia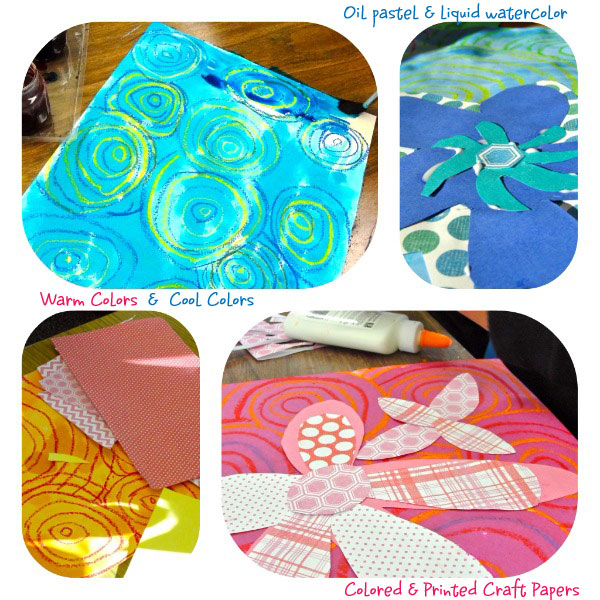 To start, I gave each student a 12″ x 14″ (note the size) white construction/sulphite paper. I used a paper cutter to reduce the regular sized 12″ x 18″ paper. The smaller size takes less time to complete. Then, using oil pastels, children selected warm or cool colors and drew circles or other organic shapes onto the paper. We focused on radiating design…lines and circles growing and changing outward.  A simple liquid watercolor wash in either pink/orange or turquoise/blue spread over the entire piece.
While the watercolor dried (about 10 minutes), children selected from a tray of warm or cool patterned or solid pieces of paper.  Some students used oil pastels to draw flowers and then cut, while others simply took to the scissors and created layers of flowers. We talked about the outer petals, middle/smaller petals and finally the center. A small amount of glue and the piece was finished in less than 50 minutes! Fun and fast. Now, what art teacher doesn't like that?
Sixth Grade O'Keeffe inspired flowers….

Books for Children:
Georgia Rises: A Day in the Life of Georgia O'Keeffe
My Name Is Georgia: A Portrait by Jeanette Winter
Helpful sites:
Georgia O'Keeffe Museum
Georgia O'Keeffe: About the Painter on PBS
This post contains affiliate links
---
Enjoyed this flower lesson? Click the download button below to receive another free sunflower lesson with chalk pastels! (We recommend using Chrome or Safari for this download!)