April is art show month!
All the work you've put into your art program and your students are worthy of a celebration, so I hope that you are able to step back and give yourself a pat on the back.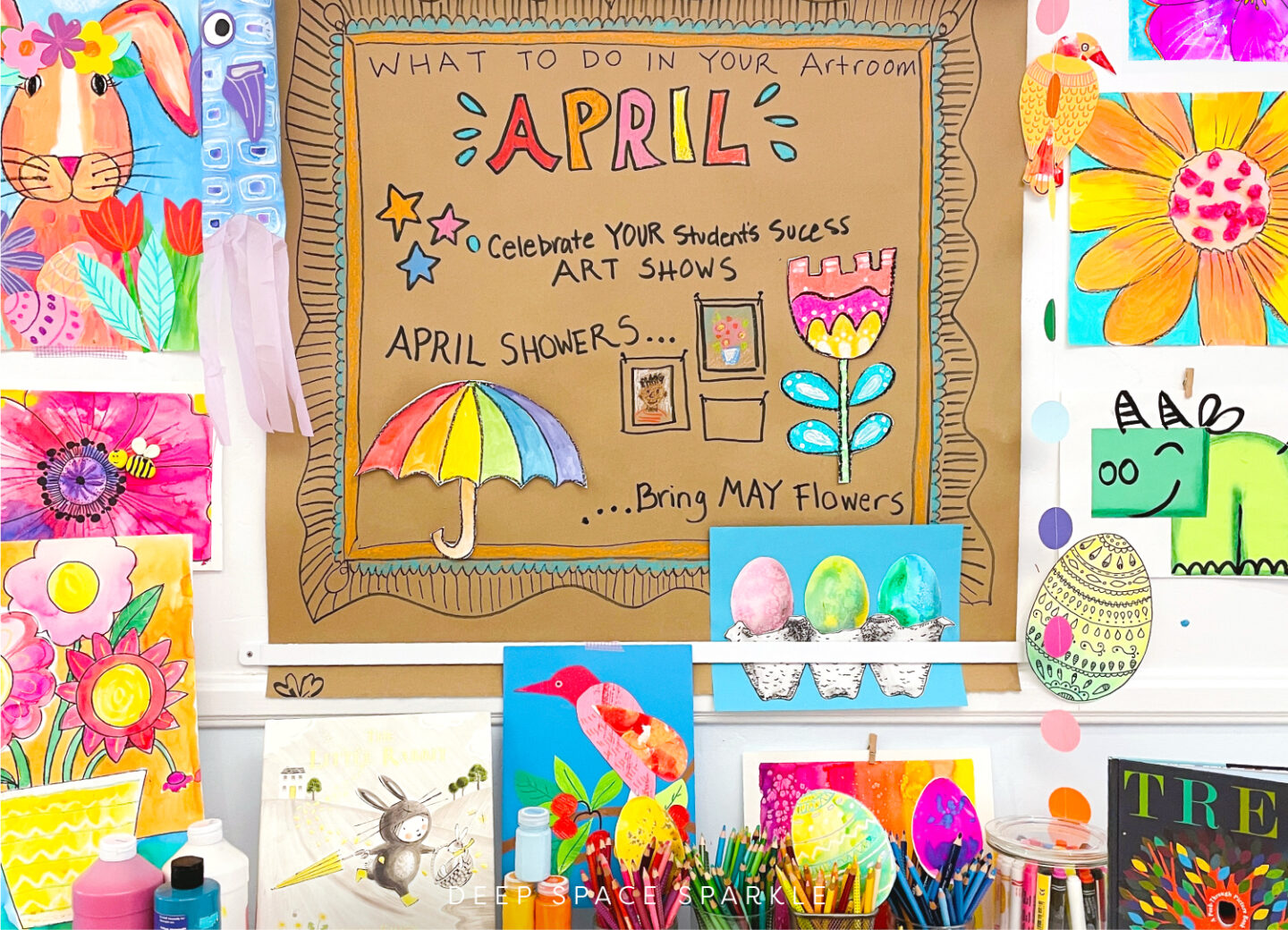 And remember, if your art show didn't go as planned, it's not a reflection of YOU. Keep improving it each year and remember, if the students see it, it's worth it!
After a good glass of champagne (or Martinelli's), it's time to consider seasonal projects:
We created a calendar for you to download and use a reminder to think about not only the special events in April but also to get a head start on upcoming activities and events.
Download April What To Do List below… (We recommend using Chrome or Safari for this download!)
If you are looking for other April-themed art activities, here are a few ideas to toss around…
– Recycling
– Art made with recycled materials
– Natural Ground Compositing
– Spring rains
– First bulbs and blooms
– Easter eggs
– Easter baskets and bunnies (Peter Rabbit!)

Here are a few of my time-tested favorite projects to brighten your day:
Painted Paper Duck Use up your collection of paper scraps and delight the little ones with this skill-building project. Download the Freebie Pack for both the Duck and Flowers by following the link above!
Watercolor Resist Flowers I can't say enough about the success rate of this project. Trick is using a template to help children draw big flowers. The rest is pure magic.
Birds in a cherry tree Have a little more time? These bright, happy birds nestled in cherry trees are quintessential Spring!
Watercolor Tulips A quick, one class project that can be done with almost any grade level. Download the drawing guide by following the link above!
Daffodil Art A few easy and quick ways to draw daffodils. Download the drawing guide by following the link above!
Paint Like Monet An abbreviated version of a project from my book and The Sparklers Club, this project teaches children the art of double loading and how fun it is to paint colorful leaves.
Petunia Ducks feel quite at home in Springtime and this post shares a very cool painting technique to help little ones gain control over the paintbrush.
Happy Butterflies This is a perennial favorite of mine, especially this time of year as you can use up some scrap paper from your scrap paper box. If you don't have painted paper, just use colored paper and perhaps use gel sticks or oil pastels to add decoration.
And last but not least…. Let's take a moment to celebrate our April Birthday Artists who have given the art world so much beauty….
Leonardo da Vinci April 15th
(and our own Mister Sparkle, Neil Cutcliffe on April 2nd!)

Sparkle on,
Patty