There are no words more terrifying to hear for an art teacher than, "You will be teaching from a cart." 😳
This is pretty much what happened to this reader:
"This is my first year teaching and was kind of thrown into teaching art…
Being a traveling art teaching with only 45 minutes with each class is making lessons very hard.
Especially when I actually want the students to learn about art, not just do some crafts once or twice a week. Can you please give me some suggestions on what I can do?
We're working with lines and are about to start color, but using paint has me concerned with not having much time and not having my own room…
I don't really have time to trade out supplies either so my cart space is very limited. PLEASE HELP ME!"
While I don't teach art via a cart now, I do have a bit of experience from my early days of teaching. Basically, when you are a visitor or guest in a classroom, you don't have a lot of control over your teaching environment – at least physically – so being organized with your supplies, knowing how much prep space and display area you have as well as working with the classroom teacher to plan for drying and storing space is pretty important.
First off, you are not alone. Many art teachers have to work within the confines of a cart and many do it very well. You can too! One of the first things I would do is to give yourself a chance to warm into your teaching logistics. Give yourself some time to get to know the teachers, the kids, how much space you have and how well your cart is working. Then take some time to analyze what you have.
Download our back to School Guide | Resources to help kickstart your art program.
It's a 3-part strategy on how to use the Elements of Arts when planning your art curriculum including ordering supplies, a grade level checklist for the scope and sequence of K-7 Elements of Art and What I'll Learn in Art Class posters
Here are a few things to consider and attempt to work out: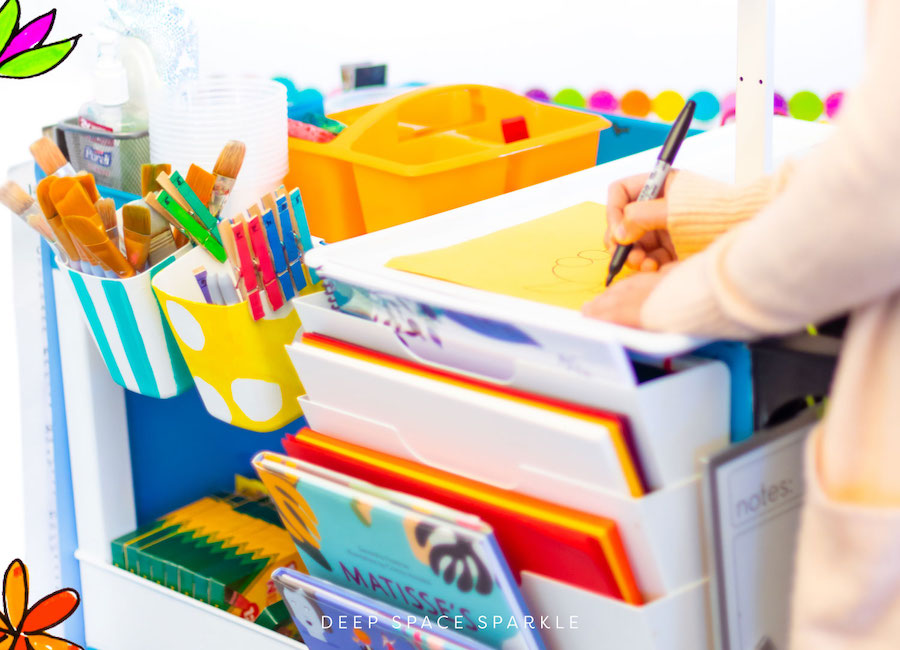 Does the classroom teacher have individual desks or shared tables?
This feels like one of the most important issues as sharing a palette of paing between 5 kids at a table is a whole lot easier than setting out 25 trays for individual desks. If at all possible, set-up tables or desks so that you can group 4-6 kids together for supply sharing.
Does the classroom teacher have a drying rack and art storage area?
If she does, give out a loud "whoop" as this will make your job infinitely easier. After a painting project, children can set their art on the rack and after it's dry, the classroom teacher can place in a pre-made folder.
Is there any demonstration room on the whiteboard or a document camera in the room?
I don't use a doc camera but it would make your job easier if you could use one in a teacher's classroom as there will probably be very little room on the white board for artist samples and drawing techniques.
Perfect projects first.
Are you scared of painting projects? If so, one of the best solutions I know to feel confident about a painting project is to do the lesson yourself. If, at any time, you stumble over a step or feel like it might be too hard, then stop and reassess the lesson. If you don't feel 100% comfortable with the project, you will struggle with teaching the steps. This is not just an "art on a cart" problem but if it is your desire to paint with your students, pick a lesson you are extremely comfortable with (at least at first). This ties in with my philosophy of controlling what you can as there will be so much you can't control.
Secure a cupboard or closet for supply storage.
As a concession for having to teach art on a car, I truly hope that your school can afford you a place to keep at least a few art supplies. If you have a spot, then keep your supply cupboard well organized and clean. Perhaps take a few moments at the end of the day to organize so that by mid-year you won't have a hot mess on your hands. Load your cart with the necessary supplies for the day.
Use technology to your advantage.
One of the great things about technology is that you can show your students visuals and even lesson steps online. That's one of the reasons why I created The Sparklers Club. In our ATTA (Art through the Ages) Curriculum – all teachers have to do is press "play" to access art history slide decks and lesson videos. No more lugging around heavy posters or books.
Teaching from a cart means you have to be organized with both your supplies and art lessons.
Here are a few projects and techniques that will help you deliver a great art program on a cart…
Markers & Line Drawings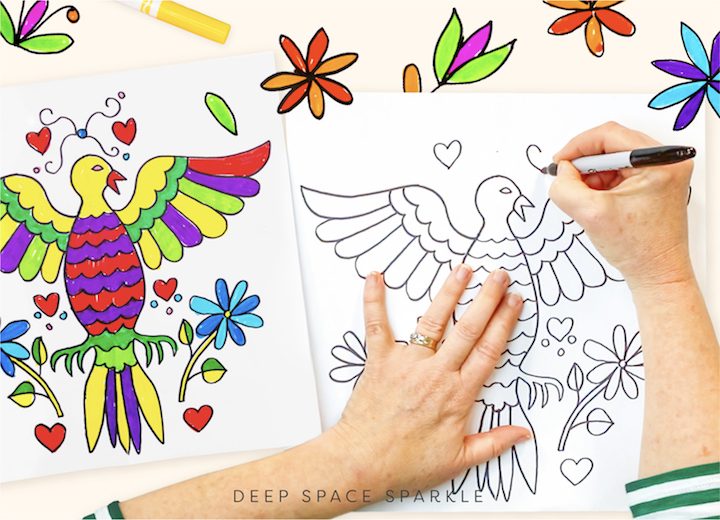 Line art is basically any project that requires paper and a marker.
I love line drawings and intersperse them throughout my curriculum when I need a project that doesn't require much prep.
You can choose to leave a drawing black and white or add color with colored markers or even paint.
The Mexican Folk Art lesson (above) is great example on how you can offer great art projects with few supplies. Younger kids will enjoy drawing with a black waterproof marker like Sharpies.
You can choose to color with either markers or tempera paint.
If you use tempera paint, choose puck or cake tempera as the pans are easy to stack and requires no prep/clean-up from you.
The Skyscraper Line Drawings is a great lesson for older kids as it incorporates line, pattern and composition. My fifth graders loved this lesson and the best part is that it requires just a marker, 2 pieces of paper, scissors and glue.
Watercolors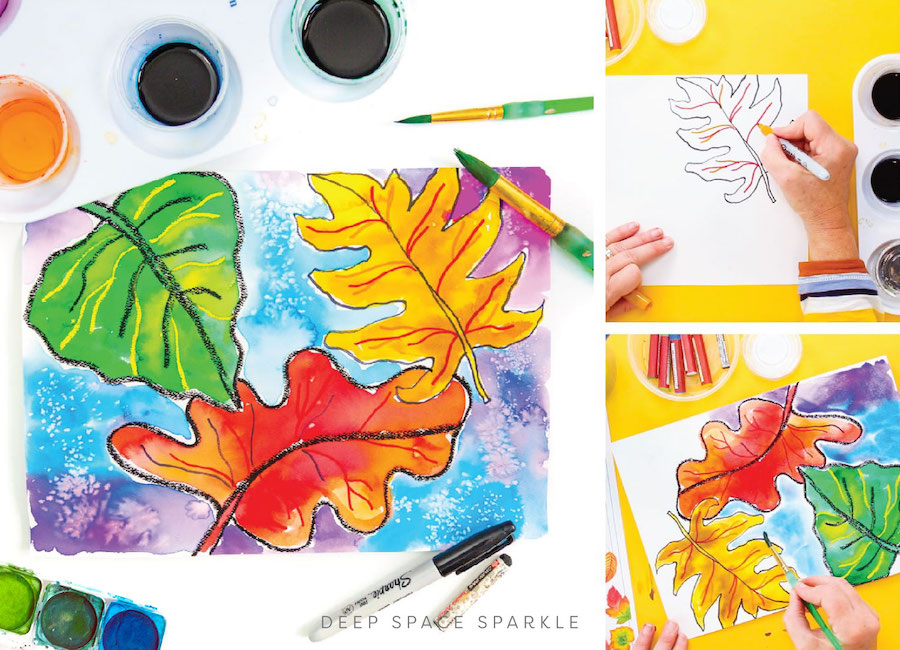 For painting projects, there might not be any paint easier than watercolor paints. You only need watercolor paper, some type of drawing tool and watercolor paints.
There are two types of watercolor paints that I use in my art room: liquid watercolors and pan or tray watercolor.
Liquid watercolors are fantastic for little ones, the colors are intense and they don't have to mix. But they do require a bit of prep which is why they may not be the best projects for a cart teacher.
Pan watercolors are great in this case. They are easy to stack on your cart, easy to deliver to students and easy to put away. You can even prep the trays to include the brush to eliminate passing out brushes.
The next question you might have with watercolor projects is what product should you use to draw with. I have a basic rule of thumb: for fast/easy watercolor projects, use oil pastel. For longer/more difficult/advanced projects use a waterproof marker.
If you are new to teacher and are just getting a handle on watercolor, try the lessons that use oil pastel for drawing. I have a bunch of watercolor lessons HERE.
Projects that require more time & supplies…
You can create a wonderful art curriculum using just line drawings and watercolor paints, but sooner or later you are going to want to move into tempera paints, collages and chalk.
Puck Tempera Paint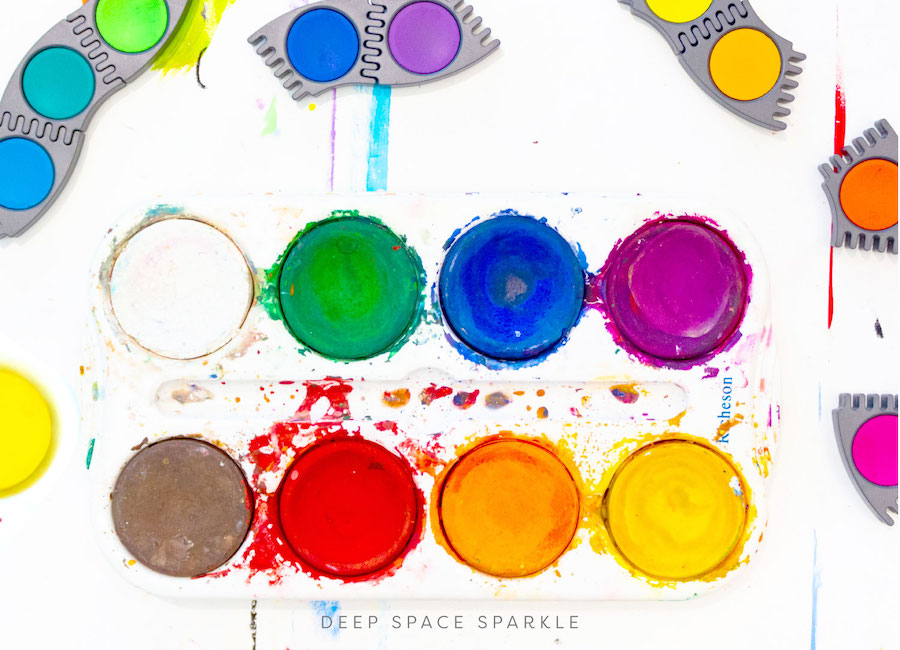 Like I said earlier, puck tempera paint is far easier to manage than liquid tempera.
You have to compromise on the quality of finish when the piece dries (depending on brand) but I still like them and use them a lot.
One of the bigger benefits to puck tempera is that they dry a bit faster than liquid tempera.
Use a general sulphite/construction paper.
Chalk Pastels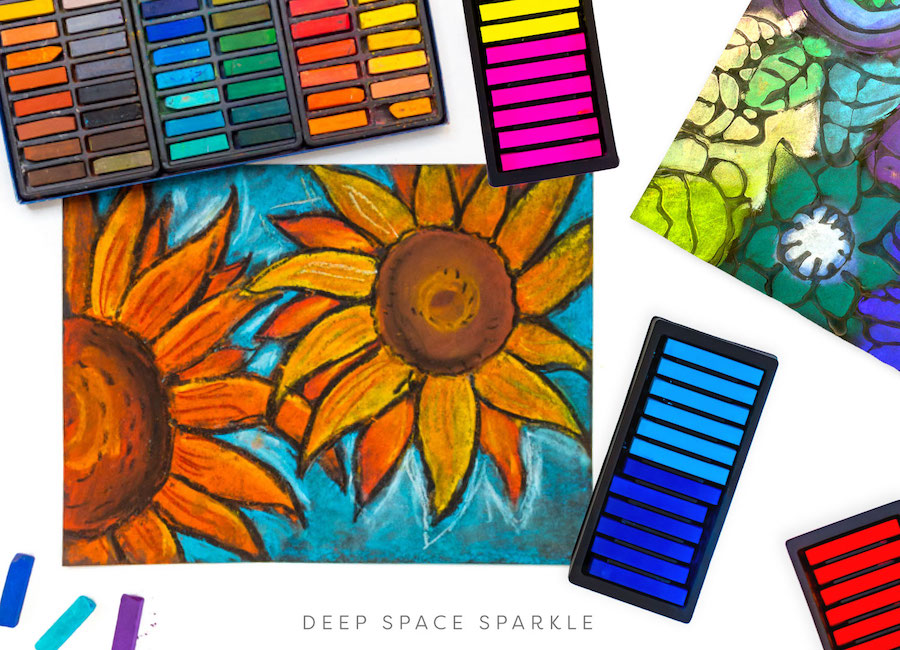 Chalk pastel is a product I use only once or twice with each grade level but less with Kinders.
Keep the chalk in the trays they come in because if you start dumping them into a larger container, they just get to messy and beat up. Spend some time during clean-up to show the kids how to place all the little chalk pieces back in their beds.
I always find that there are a few organizers in the group who love this job!
The best part about chalk is that they require little prep: just place the trays on each table. And if you have desks, they are relatively inexpensive so each child can have a pack.
The problem with chalk is that they are a bit messy. To contain this, bring in some newspapers and place under each piece of art.
Children can contain their chalk dusk on the newspaper, tap the collected dust into the trash and then use the newspaper to cover their art work to prevent smudging.
Click to see some great chalk projects HERE.
Painted Paper & Collage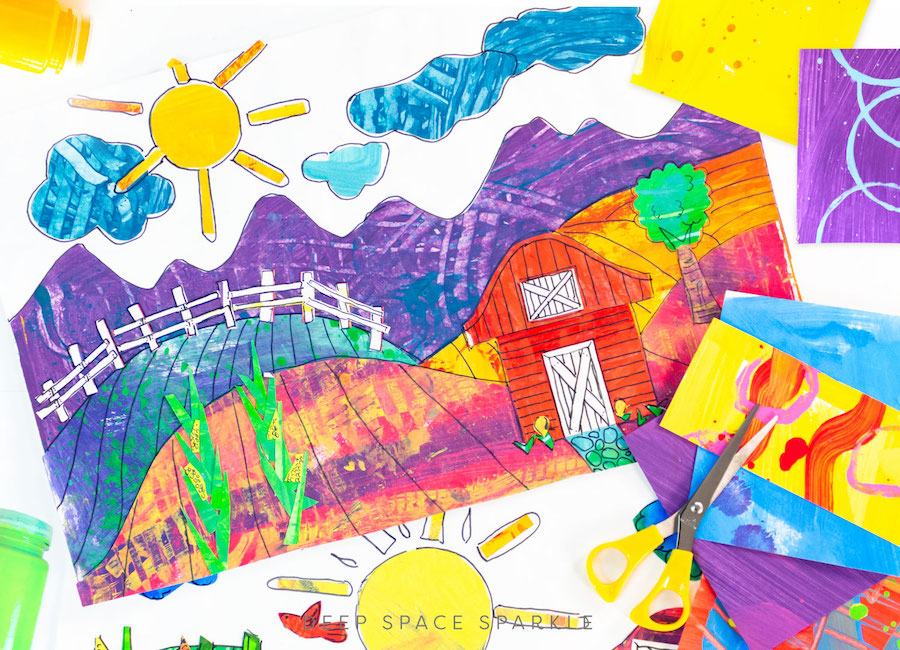 Using papers like painted paper and collage materials would certainly be a harder project to manage in someone else's classroom.
There is a tremendous amount of prep involved in creating paint colors, cleaning massive amounts of brushes and storing the paper if you create painted paper the way I do it. It's entirely possible to create the painted paper yourself and then use the product for projects but that would be up to you.
Collage projects that require lots of paper, scissors, glue, templates, paint, oil pastel, etc. are projects that require more breakdown and therefore more planning.
Don't eliminate these projects, but give yourself permission to take it slow.
Don't try to cram it all in at once. 45-minutes is plenty of time to do a great job of any project if you break down the steps for different days.
The following links give you excellent advice on organization, management and little tips from the people who actually teach from a cart.
Tales from the Traveling Art Teacher
The Life of a Traveling Art Teacher from The Art of Education
Rainbow Skies & Dragonflies: Surviving Art on a Cart (I love this list, especially #9!)
Art Cart Tips for Art Teachers
If you would like to learn more on effortless lessons and tips on teaching art from a cart, download my free PDF below:
I know there are a lot of you out there who teach from a cart, so let's hear it: what's the ONE THING you wish someone told you when you first started? Comment below!
Art on a Cart Mini-Curriculum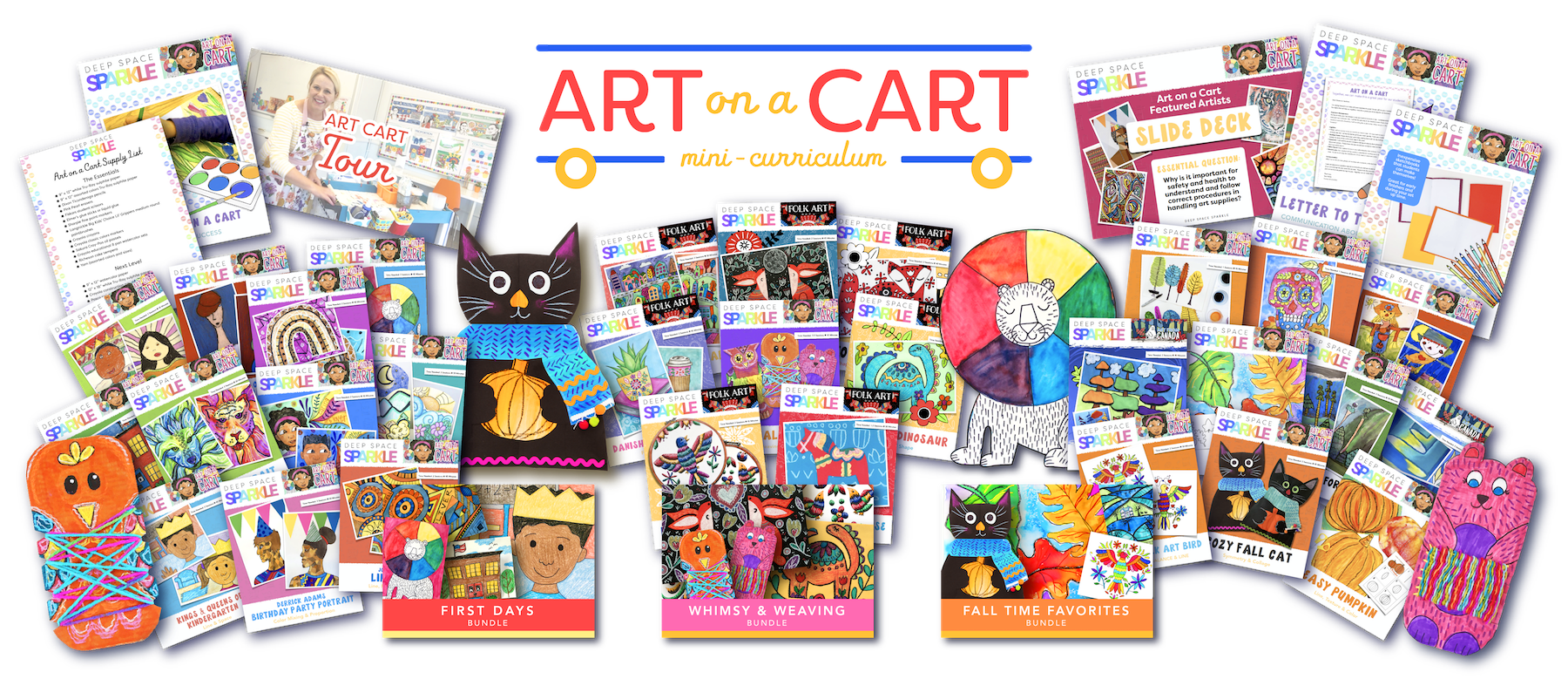 The Art on a Cart Curriculum is a done-for-you roadmap of fun and engaging lessons that use simple, low-prep supplies, located in The Sparklers Club; an affordable and flexible "pay as you go" monthly membership – perfect for anyone who teacher art to students aged K-6.
This 3 Bundle curriculum was created just for you as we enter into a school year where you may find yourself teaching remotely or "Art on a Cart." And just because your supplies may be limited, doesn't mean that your students' art has to be!
Get kid-tested (and teacher-approved) step-by-step lesson plans, done-for-you assessments, and practical support – so you can unleash your students' creativity in the classroom and become an Art Teacher Superstar – without the overwhelm.
MEMBERSHIP OPENS TWICE A YEAR: Get on the Waitlist HERE