There is no bigger tradition in my household than pulling out my favorite holiday picture books. My children are grown, but I still lay the worn copies of The Polar Express on the coffee table – secretly hoping they'll pick it up and recall the hundred times I read the book to them.
I absolutely adore picture books and have used them for art project inspiration since my first days of volunteering in my children's classrooms.
This past summer, I picked up the newest version of The Secret Garden illustrated by Adelina Lirius. As I flipped through the gorgeous illustrations, I felt ten years old again – remembering the magic of the original novel by Frances Hodgson Burnett, and of secret places and mansions filled with hidden rooms.
So whether or not you buy picture books for yourself, or if you are lucky enough to have sweet young things to buy for, you at least have one real and impactful reason for picking up a title or two: your students.
Here is a collection of some of my most recent holiday favorites, and a few coordinating project ideas to spark your imagination.
The Little Reindeer by Nicola Killen
I adore Nicola's work. I have three of her books on my bookshelf. I'm not sure if it's the delicate touch of sparkle in her illustrations, or the sweet story of little Ollie who is chasing after the possibility of a reindeer in her backyard, but she clearly had me at the silver bells hanging from the bare trees. And look closely to see all the magical woodland animals peeking between the branches.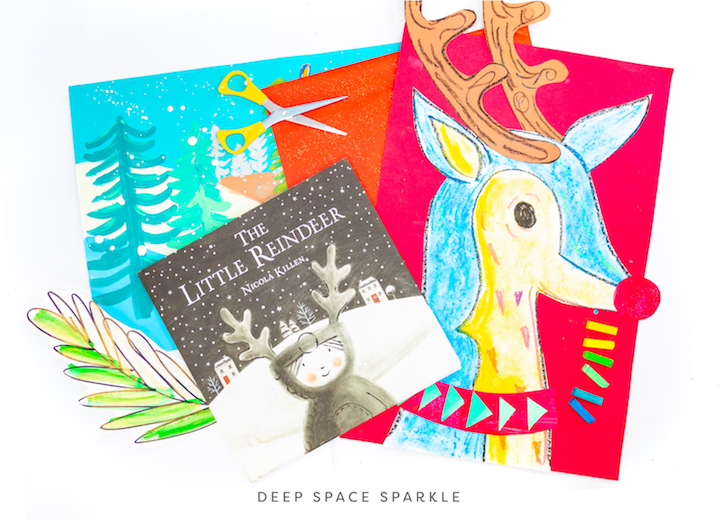 I created a few sample projects from this book based on a couple of themes but in the end, I went all in with a colorful reindeer. Whether you change up the colors to coordinate with the book (really not necessary for kids, but sometimes these are things I obsess about), I think it would be a shame not to include a small dash of glitter or sparkle. You can learn how to make your own glitter paper right here.
The Great Spruce by John Duval, illustrated by Rebecca Gibbon
I'm a fresh tree girl. I told my kids that if I ever go to Costco and buy an artificial tree, then someone must have hijacked my body and they are to call the FBI straight away. It'd be that serious.
Although, something about climate change and under-appreciating our forest and biodiversity has me started down a different path.
This book sends a great message to children (and all the fresh-tree loving people like me) that there is an alternative to cutting down trees for the purpose of a brief stay in our living rooms.
What I love most is the historical nod to how the tree lighting tradition at Rockefeller Center began, and how it has changed courses throughout the years.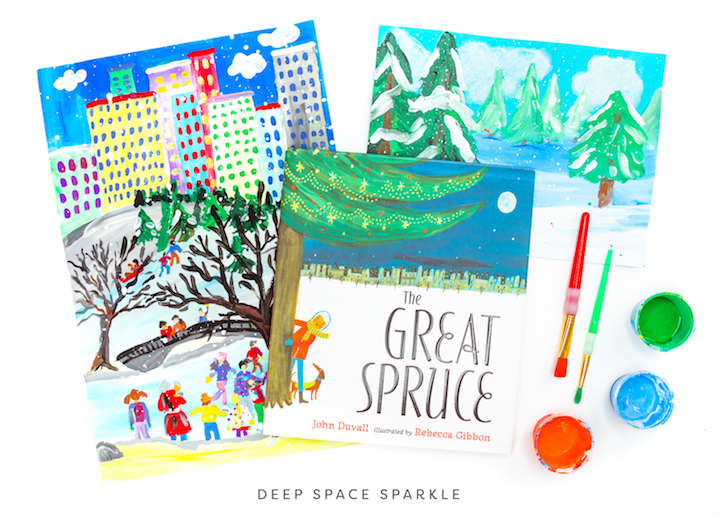 To really appreciate the beauty of a great spruce, a walk through the forest is the best way, but a close second is to paint them. Here is a very easy winter tree painting project that uses tempera paint and focuses on creating value.
The Last Stop on the Reindeer Express by Maudie Powell-Tuck and illustrated by Karl James Mountford
While this book is a sweet story about a girl who lives far away from her grandfather, the illustrations are pure magic. I remember picking this up at my local bookstore and spending days creating projects from it. The reindeer from the first post was inspired by this book and if you check out the pages inside, you'll see why!
But it's the windows in the book that hold the most possibilities. It's funny because in The Sparklers' Club this month, our bundle features Dwellings Around the World. The training we selected to enhance the Bundle was the art of crafting peek-a-book windows. Being able to peek underneath something just enhances the joy of the project and triggers so much curiosity for kids. And that's what the project below does…it captures curiosity and imagination.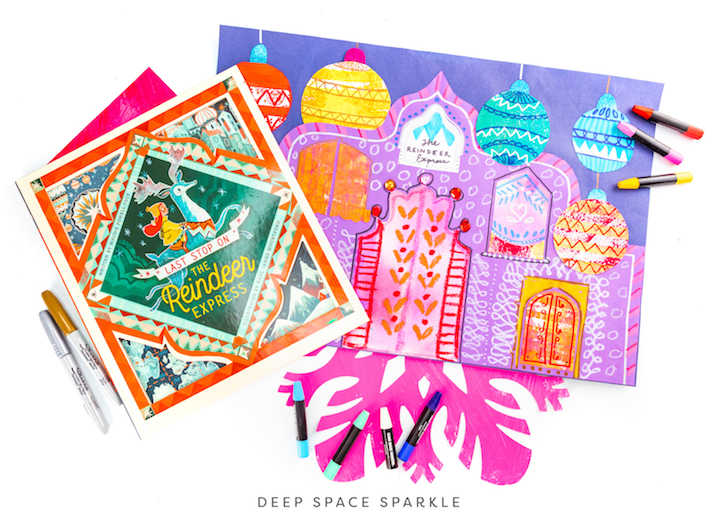 I selected this book for my Holiday Art Workshop that I had here in Santa Barbara last year. While we weren't able to repeat the event, I can share this book with you and a glimpse of an art project that was inspired by it.
The Story Orchestra | The Nutcracker, illustrated by Jessica Courtney-Tickle
Oh my. This book. It's just exquisite. If you love the Nutcracker story, you'll love the illustrations in this book. If you love Tchaikovsky's music, you'll ADORE this book. Hearing the music as you turn the pages makes for a wonderful experience for you children and students.
Illustrations that are as magical as the ones in this book have me dreaming of being a children's book illustrator. Of course, it's no easy feat coming up with pictures that tell the story, but Courtney-Tickle does it so wonderfully.
I created a very easy (and tremendously successful) Nutcracker Art Project a couple of years ago. To me, it's a rather lovely way to offer children of all art skills and ability the chance to create their own magical scene. You can adjust just about any part of this project, but especially the background. Explore different color options and have fun!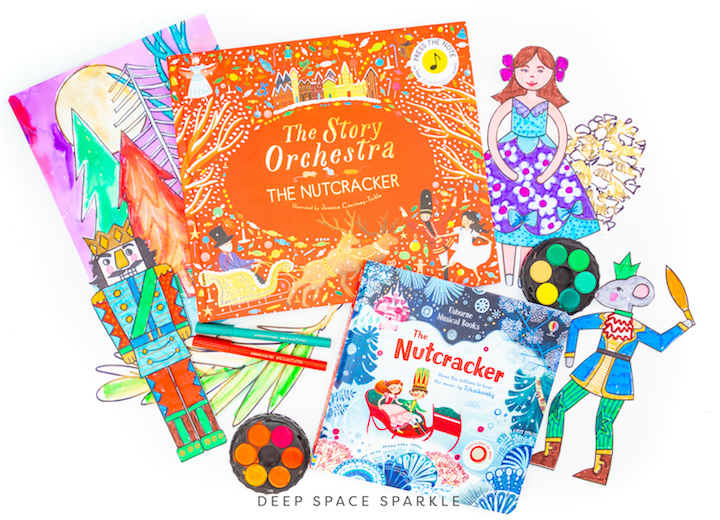 Pick a Pine Tree by Patricia Toht, illustrated by Jarvis
For a Christmas-focused book about typical holiday traditions, Pick a Pine Tree offers a bouncy, rhythmic read for your students. Filled with TONS of inspiring artwork (including the classic christmas-tree-on-top-of-the-car picture…which you all know, I LOVE because I created this Christmas Car Art Project based on an image just like this one). This really is an art teacher's dream book.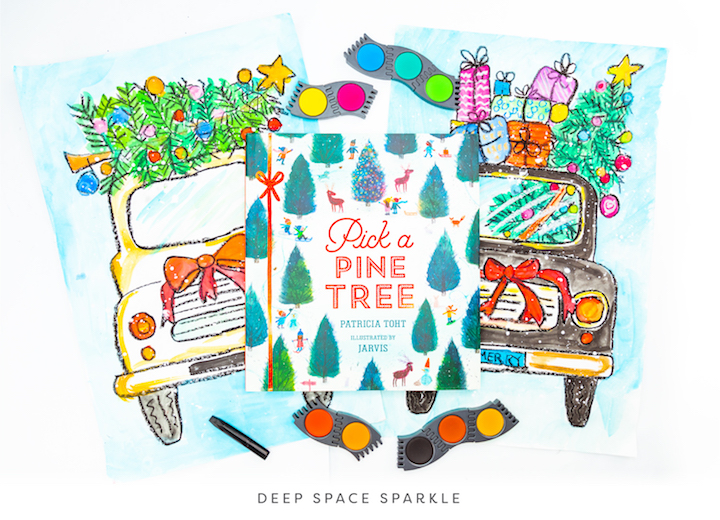 There are so many opportunities to tie in just about any type of holiday art project with this book, so it gets a huge vote from me.
You can watch the Pick a Pine Tree book trailer here.
Walk in a Winter Wonderland, based on the song by Felix Bernard and Richard B Smith and illustrated by Tim Hopgood
Here's another book I used in my Holiday Art Workshop. It's based on a familiar song that has been turned into a beautiful book. Again, so many art projects have come from this book: snowflakes, happy snowmen, and winter trees, to name a few.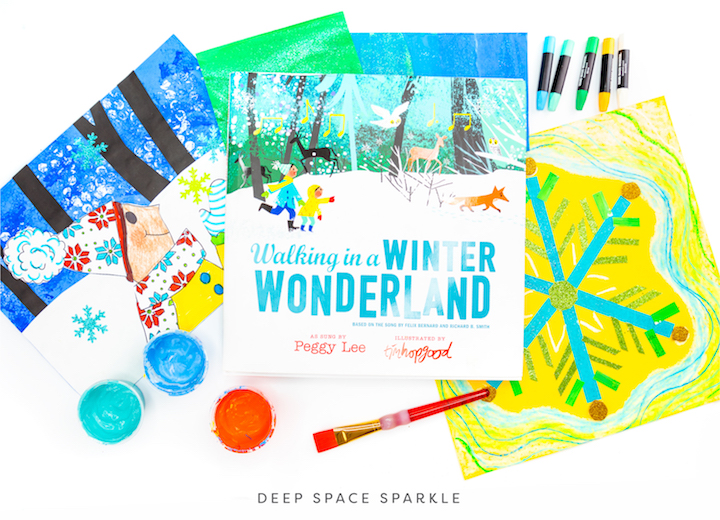 When I asked our Creative Team member Heather Sparks to come up with a new project for the workshop, she decided to do a printmaking project. And I'm so glad she did. Kids LOVE printing with bubble wrap so do not, I repeat DO NOT throw away your bubble wrap!
So there you have it – my list of lovely literary additions to your art room library. I hope that you can pick up a title or two.
Let me know if you have any books that you have loved sharing with your students or children during the holidays.
Looking for more art book suggestions? You can find them right here.
Children's Book Week is happening November 9-15th this year. Find more information and grab your 2020 Educator Guide on Every Child a Reader's website.
*This post contains affiliate links. As an Amazon Associate I earn from qualifying purchases.