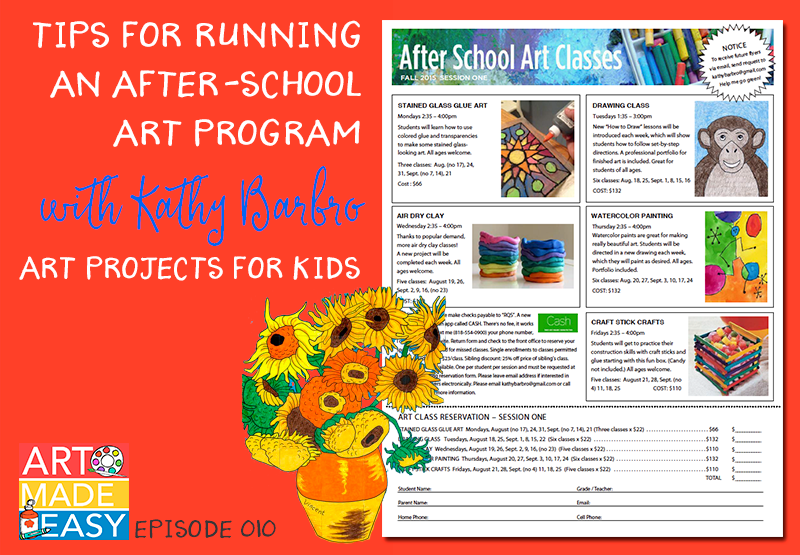 Kathy Barbro was one of the first art educators to offer online art resources through her site, Art Project for Kids. No doubt you have seen or purchased her wonderful artist-inspired collaborative murals for your students to color. After speaking with Kathy for the first time in January, I realized there was so much more to Kathy than how-to-draw handouts.
Kathy is a busy gal.
Not only does she teach full-time in Southern California and manages her blog, but she runs a thriving after-school art program. This is where we spent some time. Kathy shares her story of how her after-school program works, how she manages the time and how the financial benefit of the after-school program has changed her life.
This episode is for anyone wishing to learn more about the logistics of operating an after-school art program as well as teaching tips from one of the best art teachers around.
Make sure to download Kathy's free After-School Art Program How-to Guide. She shares exactly how she runs the program and shares what her flyers look so that you may be inspired to do the same.
Kathy is truly the most wonderful, giving people I know. I hope you enjoy getting to meet her.
---
LISTEN TO THE SHOW


---
IN THIS EPISODE YOU'LL LEARN:
– How Kathy came up with the idea to sell art murals on her blog Art Project for Kids
– What Kathy does to be able to teach art all day, teach an after-school
program and run a successful online business
– How to add more variety and keep kids engaged in your after school art program
– How Kathy uses Model Magic to engage her students
– What a typical after school program art class looks like for Kathy
– The steps to starting an afterschool program at your school
– Why it's so important to do what you enjoy when teaching art projects
– Kathy's thoughts on focus time for kids, and the perfect length for each lesson
– What kept Kathy motivated with her blog, and the best blog platform for someone just starting out
– How to incorporate social media into your business and a resource that can help you do this
---
DOWNLOAD A FREE AFTER-SCHOOL ART GUIDE
Download Kathy's After School Art Class Guide by clicking the yellow button below. By adding your name and email, you will automatically receive the Free guide and be added to Deep Space Sparkle's weekly newsletter. If you don't wish to receive the newsletter, you can unsubscribe any time.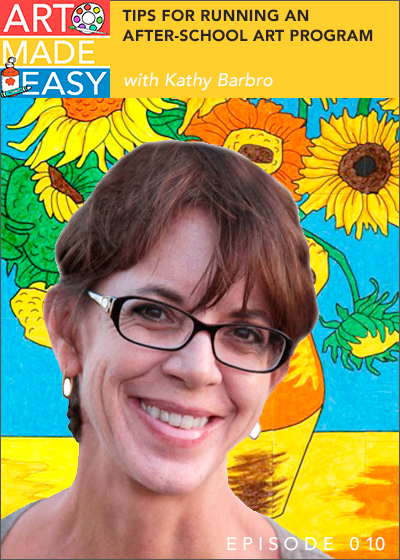 Did you enjoy this episode of Art Made Easy? If you did, I would LOVE if you can add a review or a rating in iTunes.
It's super easy: just click on the aqua Subscribe in iTunes button in this post above, Click the blue VIEW in ITUNES, a new window will open and this is where you can add a review. Thank you!
CONNECT WITH KATHY
Instagram
Facebook
Art Project for Kids