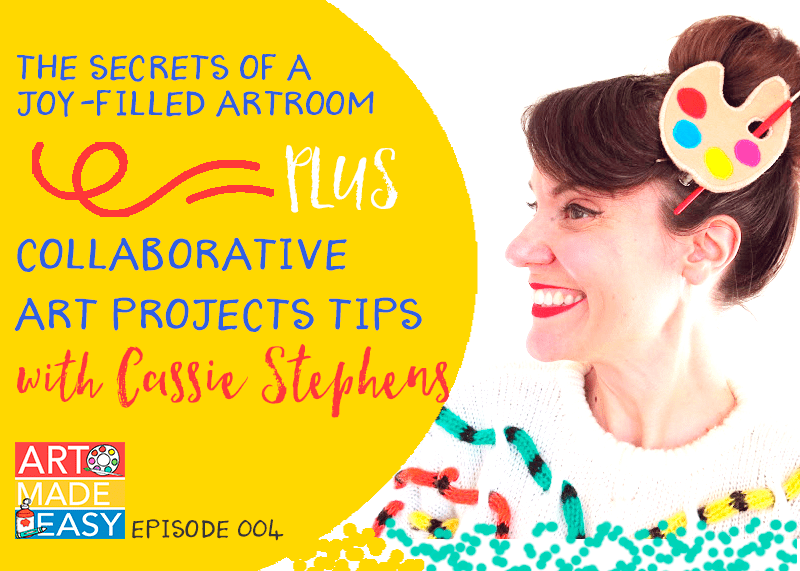 Thank you so much for all of your support during the launch of Art Made Easy. I was super excited to see my logo in iTunes New & Noteworthy section of the podcast page (Kids & Family) and as the TOP podcast in iTunes Education (k-12) Category. What a thrill! And it was all because you downloaded the show and subscribed in iTunes.
Today may be the best show yet. Cassie Stephens takes you inside her art room and shares her teaching strategies from how she teaches directed drawing, how she handles early finishers, and the process she uses to create collaborative murals and thematic units.
If you are action oriented, grab a notepad and pencil because this show is going to offer amazing tips. But for me, hearing how Cassie transformed herself from an overworked, stressed out art teacher (hard to believe, right?) to her carefree, colorful persona is not only remarkable but inspiring.
SUBSCRIBING… 
To listen on your iPhone, download the free PODCAST AP, then subscribe to the show in iTunes. Your app will update automatically when new shows are published.

If you have an android phone, you can subscribe to Stitcher Radio and download their free app.

IN THIS EPISODE YOU'LL LEARN:
– How Cassie Got her start as an art teacher
– How fashion created engagement with her students
– The story behind Cassie's Andy Warhol inspired Campbell Soup dress
– The benefits of keeping a positive attitude in the art room
– The steps to make collaborative projects work for all grade levels
– How long it takes Cassie to make and hang a mural
– How Cassie teaches painted paper techniques
– How collaborative projects benefits her art program
– Cassie's strategy for implementing rules and procedures
– Call and response strategy
– Directed drawing tips
– Why mini-white boards are a teacher's best friend
– How Cassie deals with frustrated artists
– One paper policy
– The big question Cassie asks herself before teaching a lesson
– How Cassie plans a thematic art curriculum
– Cassie's advice to a new art teacher (what she says here is GOLDEN!)
LISTEN TO THE SHOW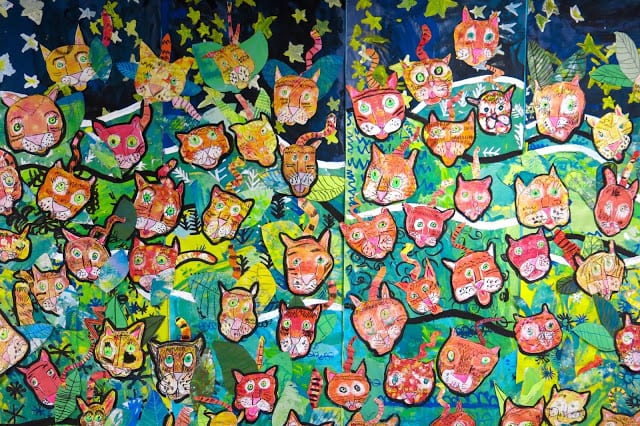 Photo courtesy of Cassie Stephens
SHOW NOTES
Cassie's famous Campbell Soup Dress
Henri Rousseau Tiger in a Tropical Storm Surprised! Painting via Wikiart
1st grader Jungle Mural and Collaborative Projects
Book Recommendation for New Teachers:
Drawing With Children
by Mona Brookes
Children And Painting
by Cathy Topal
Professor Pin Cushion's Website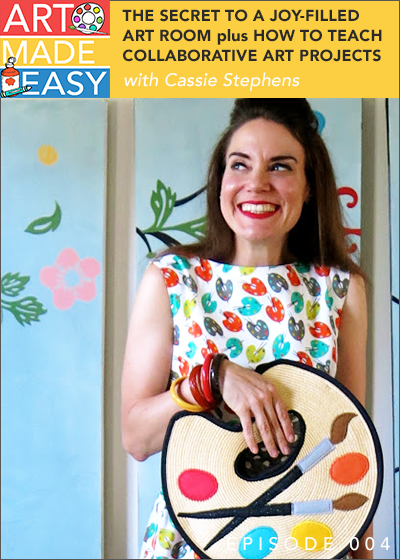 You can connect Cassie through Instagram at cassie_stephenz and on Facebook