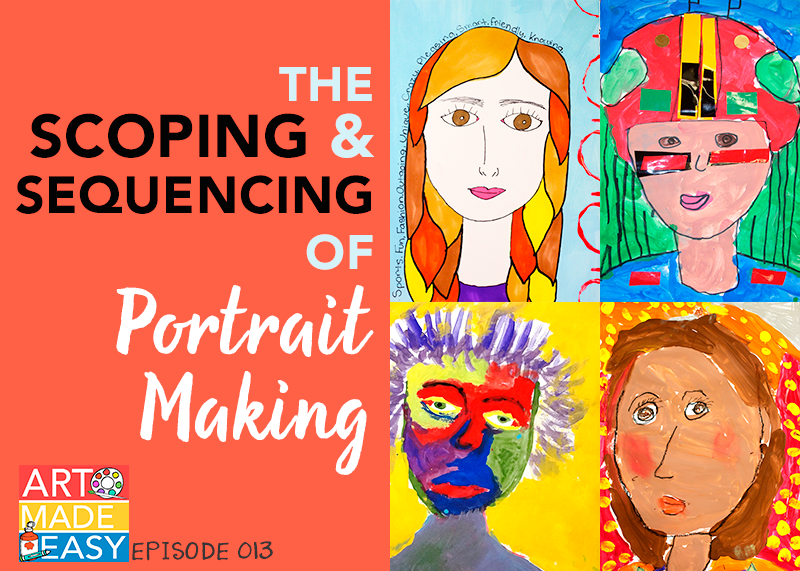 Creating a portrait in elementary school is a natural part of any art curriculum. Over my 13 years as an art teacher, I taught thousands of kids how to draw portraits–whether of themselves, a friend or an imaginary person.
It may surprise you that teaching a child how to draw a portrait is not just about eye-placement or looking into a mirror, it's also about how to create a piece of art that captures the likeness not just through drawing but with texture and color.
In this episode of Art Made Easy, I identify key learning objectives for each grade level, detail what art supplies I love best plus how I select just the right portrait project that engages students at every grade.
Make sure to download my FREE Scoping & Sequencing of Portrait Making PDF that details the projects, supplies and learning objectives for each grade level. Just login to your DSS account to access. You can create a free account if you don't already have one.
LISTEN TO THE SHOW


DOWNLOAD THE FREE PORTRAIT-MAKING GUIDE:
To download this free resource, click on the image below. Login to your DSS account and click Add to Cart.
Enjoy!
---
SHOW NOTES
– Information about the Summer Art Workshop with Patty, Palmer, Cassie Stephens and Laura Lohmann
– Do You Have a Hat?
by Eileen Spinelli
– Fred Babb Art Go to Your Studio and Make Stuff
(This is one of my all-time most inspiring poster books for art-making)