Pinterest Picks
Don't you love Pinterest? It's an art teacher's dream! It wasn't that long ago that I struggled to bookmark the URL's of my favorite art inspirational finds, and now Pinterest makes it so easy. By now, most everyone in the blog world is familiar with Pinterest, so there's no need to go on and on how deliciously simple and lovely it is.
This week, I've been pinning like crazy, trying to get my creative juices going for the new school year. I thought it would be fun to highlight a few of my favorite projects and inspirations. I might even make this a monthly endeavor…we'll see! So here are my Pinterest picks for this week….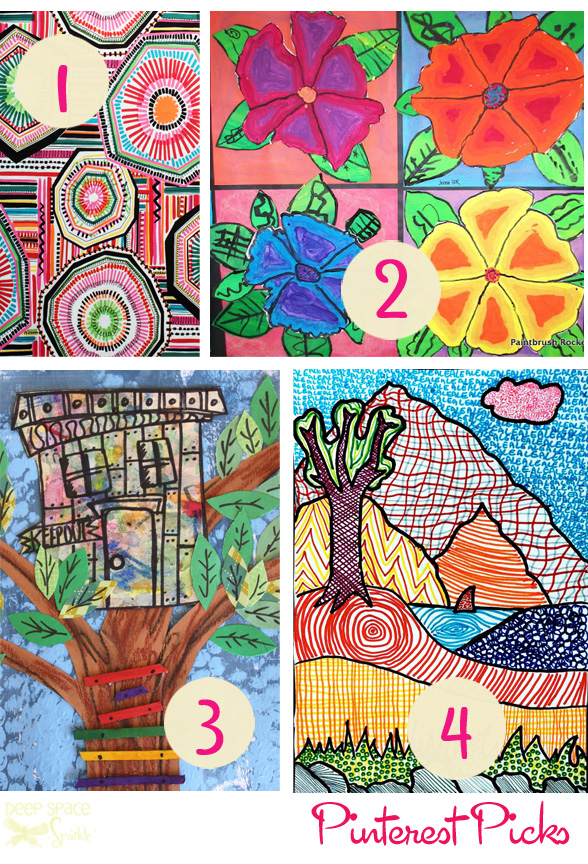 1. From Contemporary Cloth, this geometric fabric is a prefect inspiration piece for my unit on lines and patterns.
2. New to the art blog world, Paintbrush Rocket is a beautiful collection of vibrant art projects. We all do Georgia O'Keeffe flowers, but are they this beautiful? I adore them!
3. Artrageous Afternoon has a lovely, multi-media treehouse project that would be a perfect follow-up on summer activities.
4. Italian blog, Arteascuola is brimming with original works! I LOVE these multi-colored marker line drawings. I don't know how Miriam encouraged her students to be so thorough in their drawings, but I'm impressed!

The reason why so many creative bloggers allow their site to be pinned is because it drives traffic to their site. If you have a visual elements on your blog, then you know how much traffic you receive. If you advertise on your blog, then traffic back to site is a big deal. We need to support creative bloggers and keep them willing to share their original content by remembering the following:
Don't pin an image from a blog's home page. Have you ever clicked through on a pin only to land on the website but not be able to find the tutorial or art project associated with the image? That's because the person who originally pinned the image didn't pin from the original post. It's very easy to pin something from the home page of a blog but if you think about how a blog's home page works, you realize that it is never static.  Instead, try and click on the post title of the image (the permalink). This way, the post will pop up into a new screen. Now you can pin away and those "re-pinning" the image will always land on the proper tutorial or home page. I can't tell you how many times I've pinned from the home page and kicked myself when trying to locate the pin. So if you have done this, don't worry, you aren't alone! At least now we know how to be better pinners.
If you source an image through Google Image search, make sure to click through to the original source.
Try not to pin dozens and dozens of images at once. Those who follow you will be forced to scroll through your obsessions until you take a break! In other words, don't flood your followers.
Here are a few articles on Pinterest etiquette:
Want to follow Deep Space Sparkle?