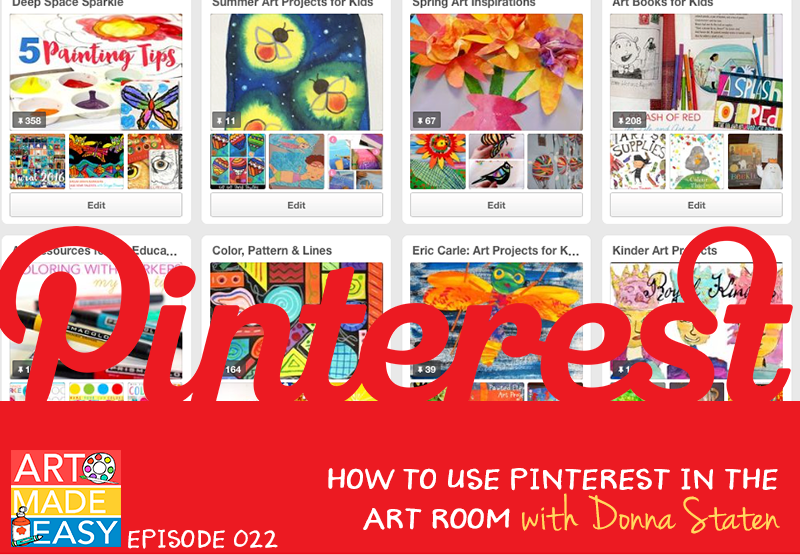 I'm excited for you to meet art  teacher and anointed Pinterest Art Queen, Donna Staten. Donna is an art teacher from Austin, Texas who is known for her HUGE following on Pinterest. And because of her Pinterest efforts, Donna has been invited to be a part of the Bill and Melinda Gates Foundation Teacher Advisory Council.
Pretty impressive, right?
This episode is perfect for anyone who wants to learn how Donna grew her Pinterest following to over 100K followers. (Hint: it takes some time! ) She also outlines her top ten best practices for growing a following and ways that Pinterest can be used in the art room.
---
IN THIS SHOW YOU'LL LEARN:
– How Donna discovered Pinterest and why the platform initially appealed to her
– Who she builds her Pinterest boards for and if a blog is really necessary
– How Donna organizes her boards and what she would do different if she was only using Pinterest for herself
– What are "Secret Boards" and how they can be used in the classroom
– What three major upgrades did Pinterest make to help art teachers
– Donna's 10 basic tips for teachers using Pinterest
– What you shouldn't pin on your boards and her advice regarding privacy and professionalism
– Proper Pinterest etiquette
– How much time it takes Donna to "pin" (she has over 120,000 of them to date)!
– How various opportunities have come Donna's way all because of her activity on Pinterest
---
LISTEN TO THE SHOW:


Donna's Top Ten Pinterest Tips:
1. Keep each board specific
2. Always preview images and videos
3. Don't pin anything that is not kid-friendly
4. Be careful about joining group boards-you have no control over the content
5. Don't pin anything that has questionable copyright issues
6. Give credit when possible and try to link from the original source
7. Use secret boards to hide content from your students as they are likely to find your boards on Pinterest
8. Keep comment professional. Just commenting "cute" clutters up the boards
9. Don't just rein. Try to pin your own content.
10. Follow Pinterest Etiquette and report spammers
SHOW NOTES: 
Donna's Pinterest Page
Bill & Melinda Gates Foundation
Consortium for School Networking (CoSN)
Art Teacher Professional Learning Network (PLN)