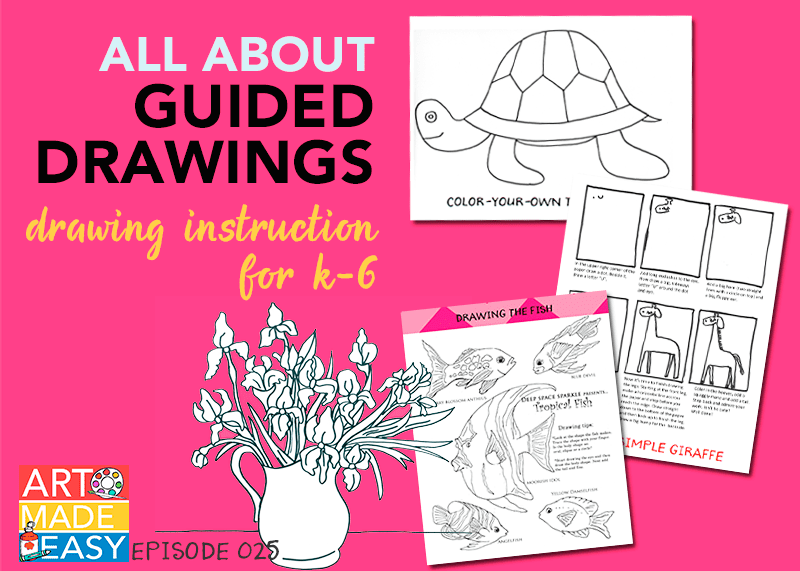 To start off Season Two of Art Made Easy, I'm answering a member's question about Guided Drawings.
Gloria asks:
"Sometimes when I am doing a directed drawing lesson, like the Matisse fish bowl, rabbits, pumpkins or really, whatever …. I'll always get the question from my students Do I have to do it that way? or Can I just do anyway I want?
And, frankly I'm torn. I don't want to squash their creativity, but I do want them to stretch themselves and try something new. My teacher friend, who is an artist, says I shouldn't even attempt to do directed drawings but rather bring in objects or photos of what is to be drawn and let the students come up with their own ideas of what that should look like on paper. Is there a balance to be had? And what would you say to those little guys who just want to do what they want and go their own route? Thanks Patty!"
Isn't that a great question? In this episode of Art Made Easy, I'm going there…discussing the pros and cons of guided drawings and answering whether or not they can be beneficial to kids or whether they restrict creativity.
---
WHAT YOU'LL LEARN:
– How all art philosophies are good, and there's really no wrong way to teach art to kids
– What exactly a guided drawing is and when is the best time to use one
– What are the benefits of guided drawings, especially for younger children who tend draw on the small side
– Why your objectives or goals must be determined when considering which methods to use in your classroom
– How you sometimes will have to be the authority and not allow a child to draw something that doesn't fit with your project or theme
– What guidelines exist for implementing drawing into your art program
– How everyone can draw (it's really just a series of lines and shapes placed on the paper)!
– Why using a variety of techniques to teach children how to draw will build their confidence
---
LISTEN TO THE SHOW


---
DOWNLOAD A PDF
I created a simple guide that offers direction on what drawing strategies work best for the different grade levels. I use these guidelines as a way to introduce art projects throughout the year.
To download the PDF, click the YELLOW box, add your name and email and you will automatically receive the download. Check your inbox!
You can visit Patty through Deep Space Sparkle on Facebook and Instagram
Patty Palmer At Home Instagram
support@deepspacesparkle.com