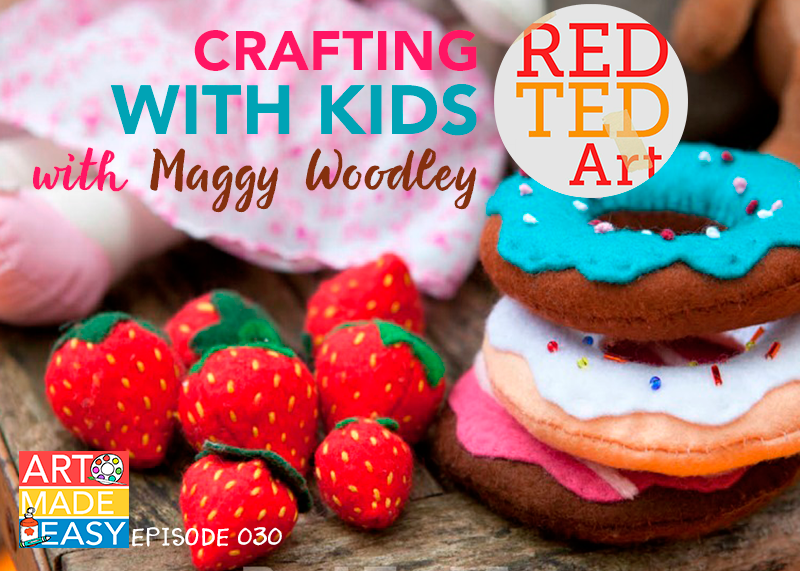 Do you love creating crafts with your kids? Or creating art based on famous artists? Learn how engineer turned crafter, Maggy Woodley started Red Ted Art, an arts & craft blog for kids. The success of her blog lead to her first book deal, Cute & Easy Crafts for Kids and grew her Facebook page to 1.8 million fans and almost 91K subscribers on You Tube.
Amazing, right?
Maggy was so much fun to talk to. She shares so many secrets of how she grew her blog following while raising a family. Even if you aren't a blogger, I know you'll find so many gems in this conversation.
Enjoy the show!
IN THIS EPISODE YOU'LL LEARN: 
How getting content out there can help you define your niche
How Maggy defines art vs. crafts
What types of recycled materials around the house can be used (instead of expensive supplies)
Maggy's favorite craft products from Red Ted Art
How she uses Facebook and YouTube to build a following with both adults and children
Advice from Maggy on starting a blog and the challenges that come with it
Why building a network or meeting blogging friends can help you succeed
The benefits of blogging courses and why waiting six months proves your chances to succeed.
What resource Maggy calls "Invaluable"
---
Subscribe to Art Made Easy and receive new episodes directly on your phone via your podcast Ap. 
Note: If you have an iPhone, subscribe in iTunes. If you have an Android phone, subscribe in Stitcher.


---
SHOW NOTES:
Red Ted Art blog
Red Ted Art Cute & Easy Crafts for Kids
Andy Goldsworthy Lesson on DSS
Check out Maggy's favorite crafts – Walnut Babies and Halloween Lanterns