The fine art of art demonstrations is not something we learn at school. Often, teachers are plunked in front of a class without knowing exactly what to do. Do you show a finished project? Where do kids sit? Do you have supplies on the table or do you offer a self-serve approach?
Believe me, I've been there!
This episode is in response to a question posed in our Sparkler Facebook group:
I'm curious, how do you all demonstrate a lesson? I'm on a cart and don't have access to a document camera. The flow of my lessons feels a little chaotic and I feel it is part due to students not understanding how to create the projects. I usually give verbal instructions and perhaps demonstrate a technique on scrap paper, but then those in the back have trouble seeing.
Such a great questions, right?
This episode reveals my strategy of how I staged my demonstrations in my art room from how children enter the art room to working on a project.
---
IN THIS EPISODE YOU'LL LEARN: 
– How I use my white board to prepare for a lesson
– Ways I managed my classroom to allow students to have a calm state of mind
– How I get children to listen
– Why document cameras or powerpoint presentations aren't my thing
– What to do if you forget to talk about a step in the lesson
– Why you should always be aware of the dynamics in your classroom
---
DOWNLOAD A SEATING CHART (Fillable)
To get the Seating Chart PDF, click on the yellow "Download PDF" button below. Add your name and email and we'll email it to you.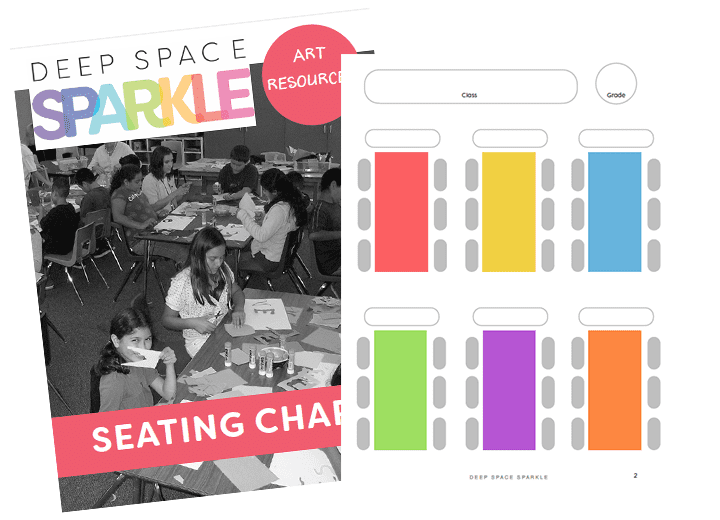 ---
LISTEN TO THE SHOW


---
LINKS & RESOURCES
Draw Paint Sparkle by Patty Palmer (Coming August 21st)
You can visit Patty through Deep Space Sparkle on Facebook and Instagram
support@deepspacesparkle.com