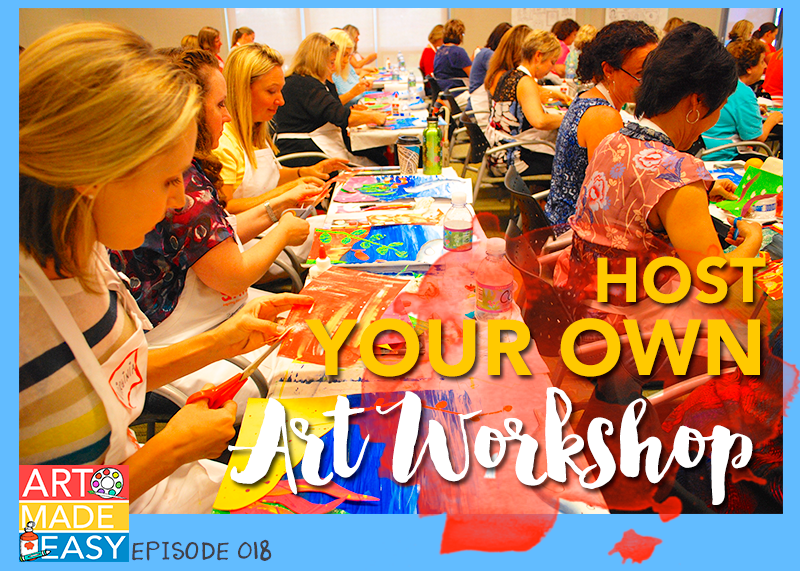 Do peers ever ask you to share your teaching secrets?  Do you specialize in an area of art-making? Does generating extra income sound appealing?
If there is a yes in there somewhere, this episode is for you.
In this episode, I unpack how I developed and executed my successful Art Workshop. I break down the process from the idea to how to book a facility to structuring the projects plus much more. This process may sound scary or unrealistic to some of you. You maybe asking why anyone would attend your workshop, let alone pay for one. But they will. You can put on a small event with 10 teachers or a large one with 50!
This show is for anyone who has a desire to share their art experience through a workshop and earn extra income in the process.
After you listen to the show, make sure to download my free Art Workshop Guide that will help you plan YOUR own art workshop.
---
LISTEN TO THE SHOW:


---
HOW TO HOST YOUR OWN ART WORKSHOP
Here are some common questions you may ask yourself as you think about whether you should host your own workshop:
How many people should I have and where will I host it?
Workshops can be as small as just a few people or as large as a couple of hundred—or more.
– Less than 10 people allows you to host the workshop in your home.
-10-25 means you'll need a larger room like a neighborhood club house or classroom at school
– 25-75 means you'll need to rent a space in a school, community center, etc.
– Larger than that and you'll need to look for facilities that specialize in events for larger groups. Popular choices are hotels and colleges and universities.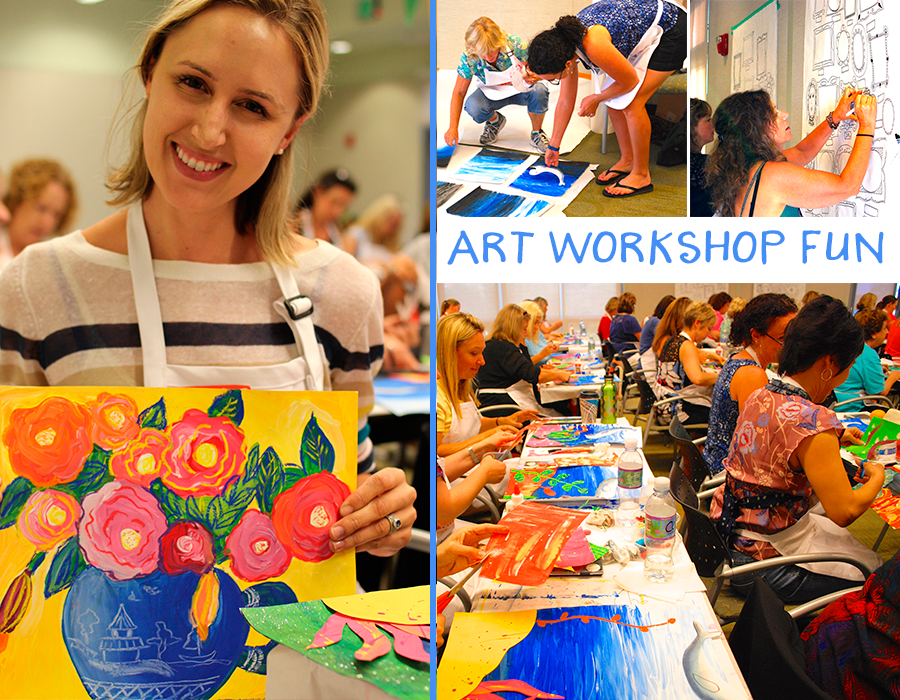 What qualifications do I need to have?
You may wonder what qualifications you need to host your own workshop especially if you are charging a fee. As far as I am concerned, you don't need any special qualification to teach what you know. Other than being good at what you do, people will either pay you for your skills or not.
What should I teach?
This is entirely up to you. Sometimes you don't know what you are really good at until someone points it out. I never considered myself a great art teacher until my art teacher friends started asking me more and more questions. They wanted to know how I did things. And they were willing to pay for my expertise.
That gave me the confidence to run a business.
To help determine what to teach, write down a list of questions or statements people often ask you. If you have a blog, look through your comments to see what questions pop up the most. Or what style of art projects get commented on more than others. These are good indications where people resonate with you.
How do people to register?
It goes without saying that if you do not already have a following, it might be hard to get 200 people to a workshop, but 10-25 is very doable. You can send emails to teachers in your areas. You can ask your friends to spread the word.
You can use social media like Facebook to announce your workshop and invite people to email you for more information.
What should I charge?
As teachers we often expect our peers to share for free. That's a fact. In fact, it wasn't long ago that teachers chastised other teachers for trying to earn extra money on Teachers Pay Teachers. The truth is, I love to share. And I love when others share, but there are some efforts that are valuable to others and payment is necessary.
In the case of a workshop, there will be fees involved. You must cover these fees plus pay yourself for not just your effort, but you expertise. Charging between $25 and $150 a day for a session is normal.
To see how I planned my event, what supplies I used and how I onboard my customers, you can download this PDF by clicking the box below. Just abetter your name and email (make sure to type your email correctly or you won't get the PDF).
---