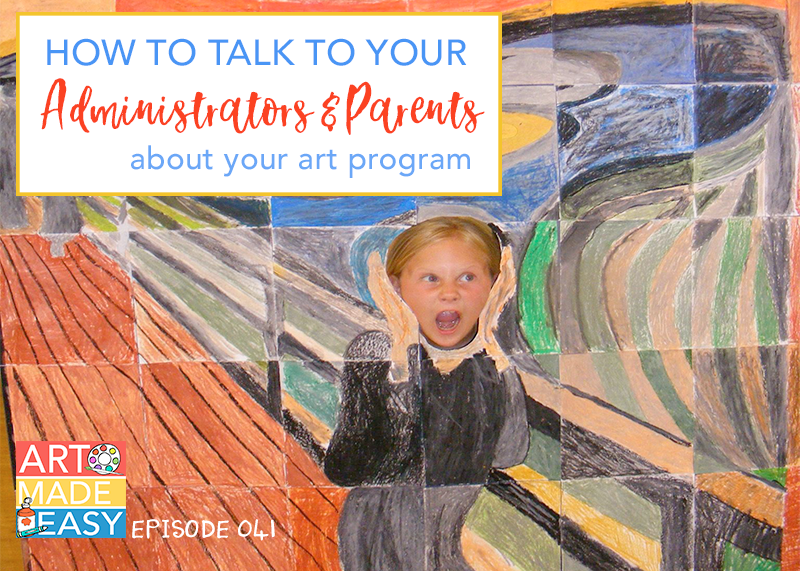 One of the hardest parts about being an art teacher is advocating for your art program. Feeling vulnerable to budget cuts, constantly aligning with new standards, accommodating everyone's perception and expectation of what art should be can be very challenging.
Recently I asked the Sparklers to share what their biggest struggles are right now in the art room…I love questions like this because it really gives you insight on how people are feeling and what their current struggles are. And the most fascinating thing for me is that everyone can relate.
Today's episode addresses three very common struggles in the art room: reduced class time, art project expectations and explaining or defending art techniques or art philosophies.
You may be surprised what all these struggles have in common and how to best eliminate them from your day.
IN THIS EPISODE YOU'LL LEARN: 
Why one of the hardest parts about being an art teacher is advocating for your art program
Like children, no two art teachers are alike
How as a creative you do have the capacity to think outside of the box to solve problems
Why you should look at changing your perception of the problem – instead of battling the administration
How the amount of excitement you show will affect the engagement of the children
How your children are your advocates, and the way you talk to the parents through the art
Questions to ask yourself to help define your art room intentions
How your end-of-the-year art show will answer every question that parents and administrations have about your art program
How the Four Agreements have transformed Patty's life
---
Subscribe to Art Made Easy and receive new episodes directly on your phone via your podcast App. 
Note: If you have an iPhone, subscribe in iTunes. If you have an Android phone, subscribe in Stitcher.
---
SHOW NOTES: 
Letter to a First Year Art Teacher AME 001
The Four Agreements: A Practical Guide to Personal Freedom (A Toltec Wisdom Book)
 by Don Miguel Ruiz *affiliate link