Do you hit the google search button whenever you need to introduce a famous artist before an art lesson? I know I've filled the white board with a few boring facts a few times. What if I told you you didn't have to research a thing about a famous artist?
Today's guest, Cindy Ingram from The Art Curator for Kids website, shares her philosophy of how she talks to kids about art and ways that you can too. And you don't have to know a thing about art!
---
IN THIS EPISODE YOU'LL LEARN:
–  How Cindy's childhood dreams translated into her success as an art curator
– Cindy's best tips to help children compare and contrast art
– How letting children discover art and answer the questions about art by analyzing it themselves
– Bonus tip: How to introduce Picasso, Jackson Pollock, Edvard Munch to your students!
– Why Cindy loves teaching Baroque art
– The best artists to introduce to children at an elementary school level
– How to utilize your classroom time to its full potential
– Ways to partner with a classroom teacher to help introduce an artist with a broader scope
– How to use Bloom's Taxonomy to analyze art
– Whether you should show nudity pieces in the classroom
– How to balance art history and creating art in limited amounts of time
-Why character analysis help children with critical thinking
– The tips and tricks for parents taking children to museums and how to engage the children through questions
---
LISTEN TO THE SHOW


---
SHOW NOTES:
Cindy's Top Tips for Looking at Art
Laurence Anhalt's Artists Series Books
Life Doesn't Frighten Me
 by Maya Angelou (with art by Basquiat)
Don Massey's blog, Shine Bright Zamarano (Check out Don's blog for amazing tech art projects and art projects featuring local artists)
---
CONNECT WITH CINDY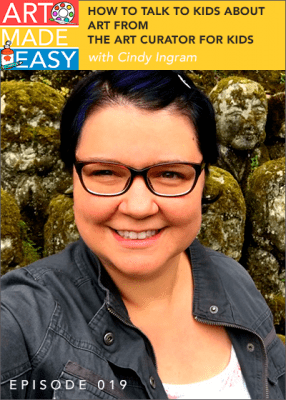 You can connect with Cindy on Facebook  and Pinterest