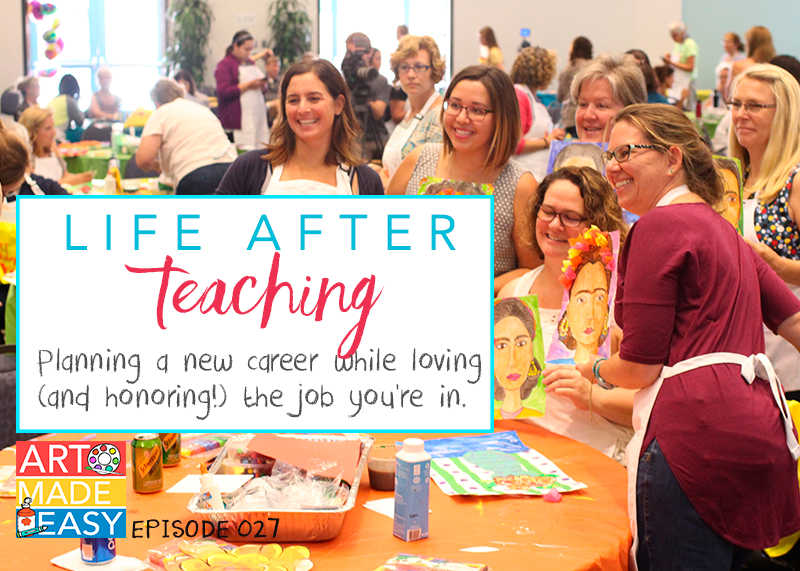 Are you dreaming of what life will look like after you retire from teaching art?
Or perhaps you've had enough of teaching and are ready to move on?
Today's episode helps a reader bridge the gap between finding happiness as a K-8 public elementary art teacher and her dreams of opening up a children's art studio.
This is Part I of a two-part series on exploring creative opportunities after teaching.
---
IN THIS EPISODE YOU'LL LEARN:
What are three main courses of action you can take when you feel like you're ready to switch things up
How it was a natural progression for me to move from teaching art to starting a blog
What the word "inspire" means to me
Why you shouldn't underestimate the power of creating something everyday that's just for you
How its possible (and so important) to merge your hobbies and interests with teaching and how it can benefit both you and your students in the art room
Why learning a new skill just might awaken the future entrepreneur inside of you
How lessons learned from TV shows can help you connect with your students
Why earning money from selling teaching resources can boost not only your pocketbook but your enthusiasm for the work you do
How presenting at events and teaching workshops can be exciting opportunities to grow and help you prepare for your future
Why you need to make the decisions on the curriculum (not children or parents) if you are teaching out of your home studio
LISTEN TO THE SHOW
Subscribe to Art Made Easy and receive new episodes directly on your phone via your podcast Ap.
Note: If you have an iPhone, subscribe in iTunes. If you have an Android phone, subscribe in Stitcher.


---
SHOW NOTES: 
Teachers Pay Teachers
Art Made Easy 021, with Ginger Bowerman Pacer
National Arts Education Association
Art Made Easy 002, with Heidi Easley
Art Made Easy 009, with Megan Schiller
---