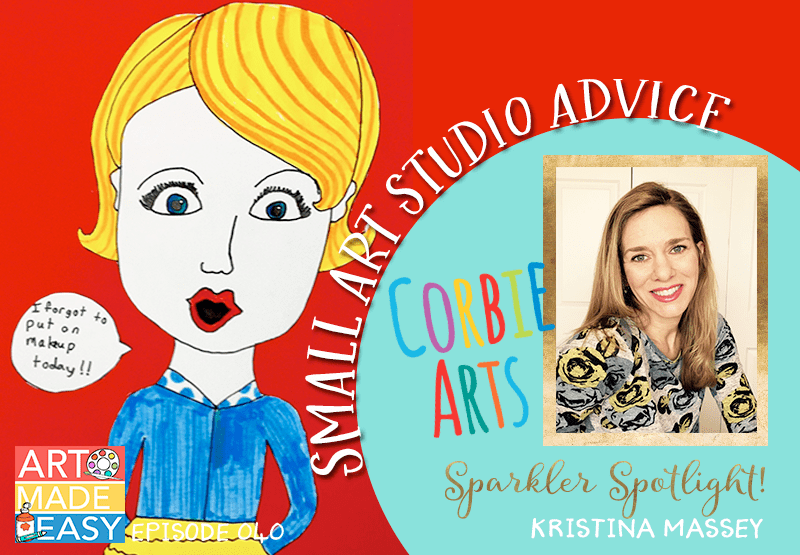 Since the creation of Deep Space Sparkle's Members Club (join waitlist) last June, I've made it my goal to help serve and support teachers on their path as art teachers.
One of the newest features of the membership is the Sparkler Spotlight. This is where I share members stories on how they became an art teacher, what they struggle with and where they find their inspiration. I'm excited to announce that my first spotlight is member Kristina Massey!
Kristina has her own art studio called Corbie Arts in Washington State and teaches after school classes to a small but growing number of students. She joined The Members' Club to reduce the amount of work she spent in creating a curriculum for her classes but now is wondering how to best use her time in building a business.
In this episode, we're flipping the format and Kristina is asking me the questions! If you are a studio owner or teach after school art class, listen in as Kristina and I chat about artsy business stuff.
---
WHAT YOU'LL LEARN IN THIS EPISODE: 
Why it is important to identify the intention of your class and attract the people that you want to serve
How to educate parents on the style of art that you are using to teach their children
How we are living in a time where everyone is revisiting or reconnecting with their creative side
How teachers can make more of their time to create more profit
Why as an entrepreneur you need to experiment with things to find out what changes are necessary in your business
Why if you find one social media platform that is working for you, you have to "double down" on that one!
---
Subscribe to Art Made Easy and receive new episodes directly on your phone via your podcast Ap. 
Note: If you have an iPhone, subscribe in iTunes. If you have an Android phone, subscribe in Stitcher.
SHOW NOTES: 
Drawing Lab for Mixed-Media Artists: 52 Creative Exercises to Make Drawing Fun (Lab Series)
by Carla Sonheim
Jasmine Star Creative Brand Strategist
Creative Bug online creative classes
Art Made Easy Episode 39 with Meri Cherry