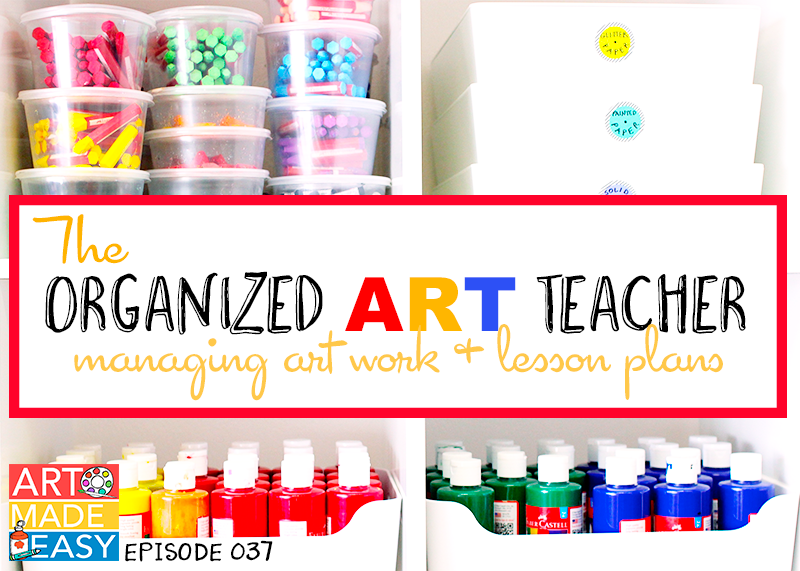 Do you feel overwhelmed when you look at your stacks of lesson plans and project ideas? Ever wondered how other art teachers store their lesson plans and samples? And what is the best way to store artwork?
Start the year off with an organized mindset by hearing how Patty organized her hundreds of lesson plans and stacks of student art.
IN THIS EPISODE YOU'LL LEARN:
Why it's never too late to organize, regardless of what point in the year it is
How mindset plays a key role in successful organization
Why listening to how other art teachers do things is a good idea
Why identifying your organizational style is the first step to take
How different themes can be organized and used later as reference tools
What my criteria for throwing things out involves
What you can do with teaching samples so that they can be used in the classroom
How to effectively divide your lessons on the masters
How (and why) organization is moving from binders to being done on computers
Why the first day of art class is the perfect time to make a student portfolio, and how do you make one?
---
Subscribe to Art Made Easy and receive new episodes directly on your phone via your podcast Ap.
Note: If you have an iPhone, subscribe in iTunes. If you have an Android phone, subscribe in Stitcher.
---
DOWNLOAD THE ORGANIZED ART TEACHER PDF
---
SHOW NOTES: