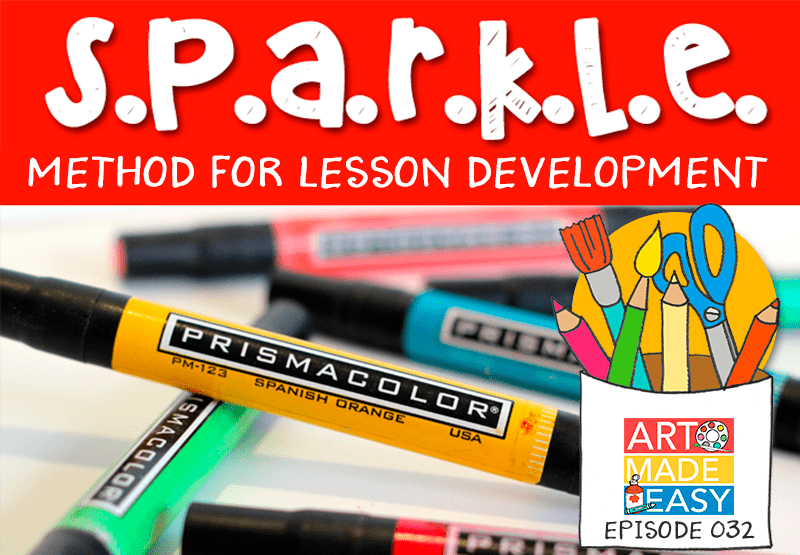 Developing art lessons can be overwhelming to create with a busy schedule. Sure you can use the same art lessons every year but every now and again, you'll want (or be required) to create lessons for a very specific topic or subject.
Over the years, I created a criteria for assessing whether or not a lesson will work in my art program. I call it my SPARKLE method for lesson development. These 7 key steps will help you create art projects that are unique to you, your art program and that your students will love.
---
IN THIS EPISODE YOU'LL LEARN:
Why it's important to flex your creative muscles and see what you can create on your own
How I get ideas for my new projects, both around the house and while travelling
Why illustrations have to be understandable for children in order to convert successfully into an art lesson
What to do if you have a set curriculum to follow
The secret to know if a project will work for students
Why you don't need to apologize for your weaknesses – play up your strengths!
How it's important to try out a new lesson yourself before introducing it to your class
Why if you're introducing an art concept in a school environment, there has to be a reason for it
How telling a story or interesting fact about an artist will engage children and make the lesson memorable
When you're doing research you can use sensory details to explain or elaborate on an artist's technique
How YouTube videos can easily be used to teach kids about artists that you're not overly familiar with
When designing a lesson around a master, make sure the person has a broad appeal for the age group you're teaching to
How using lingo, or vocabulary, in your art room is a great way to make sure your lesson planning is on track
The mindset shift I had to make when it came to using 3-D forms
---
Subscribe to Art Made Easy and receive new episodes directly on your phone via your podcast Ap. 
Note: If you have an iPhone, subscribe in iTunes. If you have an Android phone, subscribe in Stitcher.


---
SHOW NOTES:
Old Bear & Leaf Collage Lesson (inspired by Kevin Henke)
Sandra Silberzweig (Etsy Shop)
"A Rock Is Lively" by Dianna Hutts Aston
Art Made Easy's Free Art Supply Checkist (downloadable pdf)
Art with Mati & Dad YouTube channel
Getting to Know Videos on YouTube