Do you have a mantra? Something you say out loud before every class?
I sort of did.
My mantra of every child is somebody's baby was something I thought about before the students poked their heads inside the art room. But it never occurred to me to pick something to say loud and proud.
Enter Sarah Krajewski, AKA Art Room Glitter Fairy. She created a mantra that is spoken before every one of her art classes. Sometimes with matching actions. Sometimes silently. But always with the students.
Sarah shares her heart-felt strategies for connecting with her students in a very real way. You'll love Sarah's honest advice, her commitment to her own artistic pursuits and how she wins her art program.
Make sure scroll down below to download Sarah's mantra poster!
1. What was your path/journey to becoming an art teacher.
When I was in 2nd grade, I had a bet with my elementary best friend that I would become an art teacher before she would. Needless to say, I won that bet! I went to UW-Eau Claire for Art Education and have a music minor in percussion. My first teaching job was at Fontana School where I taught k-8 art for 4 years, and am now currently teaching k-5 art at Cambridge Elementary School. This is my 8th year teaching!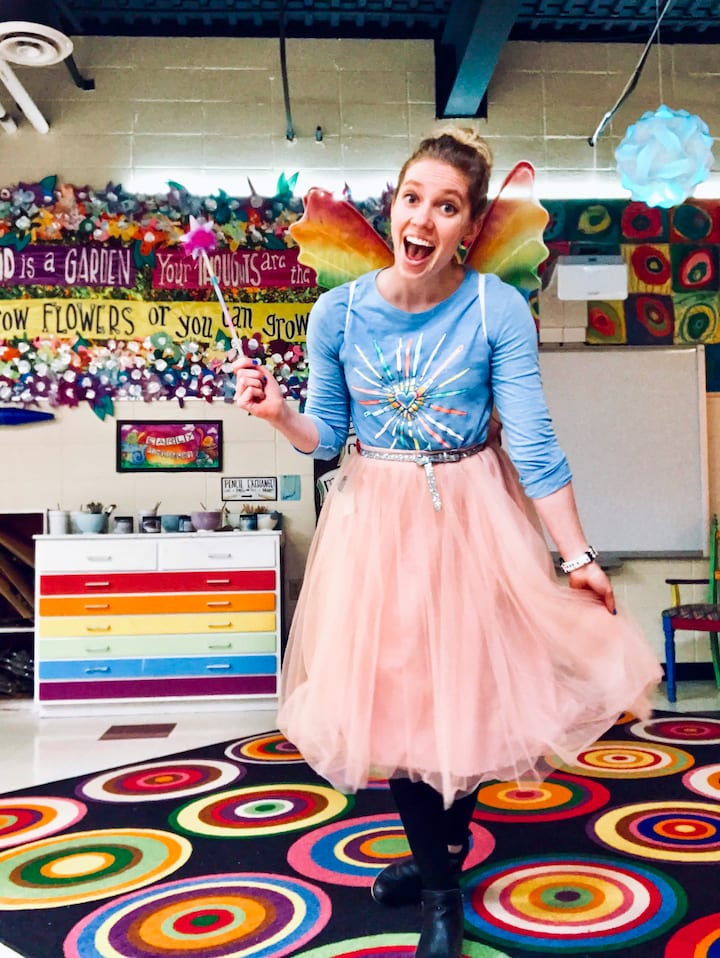 2. What do you feel is your best attribute or strength as an art teacher?
I feel that one of my best attributes is making connections. These connections happen in lots of ways. Certainly, making connections with my artists is the first thing I focus on! It is very important to me that I have a strong relationship with each of my students! The longer I have been teaching, the more I have been realizing how important it is to make connections with working artists and businesses. For example, we have brought in a few visiting artists, and those connections for students have been huge! We also display art at local businesses or partner with them for our art show events. I also feel strongly about connecting with other art educators; we are such a strong team and can be such a great support to help each other!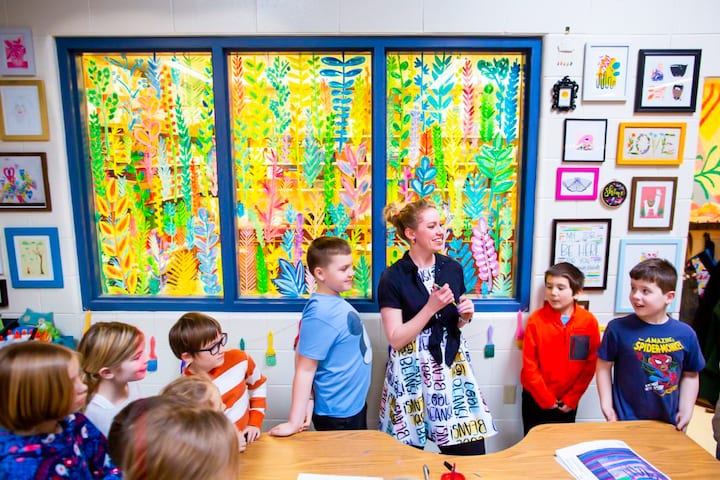 3. What do you do well in the art room and how does this benefit your students?
I set in place lots of positive affirmations that help drive our classroom atmosphere. For example, We have a classroom mantra that we recite at the beginning of each class. "My mantra. I am positive. I am creative. I am mindful. I am amazing. I am an artist." We also have a motivation board that changes quotes weekly. At the beginning of the year, we completed a collaborative garden collage that reminds us of our yearly motivational quote "Your mind is a garden, your thoughts are the seeds. You can grow flowers, or you can grow weeds." All these reminders help students to know what kind of attitude we are practicing in the art room.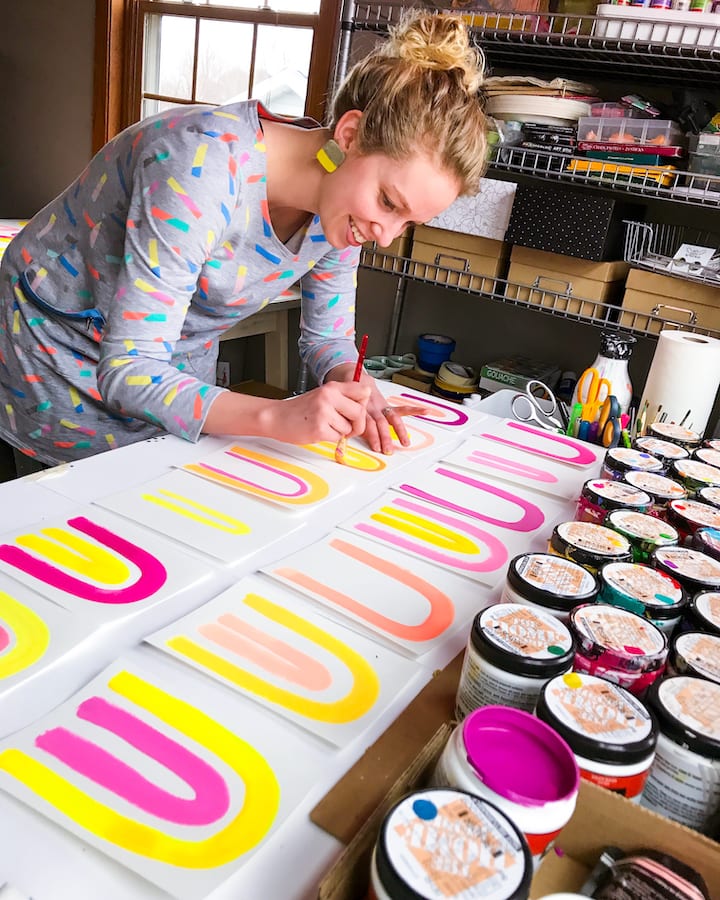 4. Why do you feel teaching art to kids is important?
Kids need places to make mistakes. They need places to play, and get frustrated, and giggle, and get messy. The art room is the perfect place for this. More than anything, I feel that my role of teaching is to help kids figure out how to be good humans. We happen to practice this through art. So when they are having a good day and compliment a friend, that's a life skill. Or when they are frustrated and need to work through a problem, my role is to be there to help them and coach them.  Art is a beautiful way to practice all these important skills!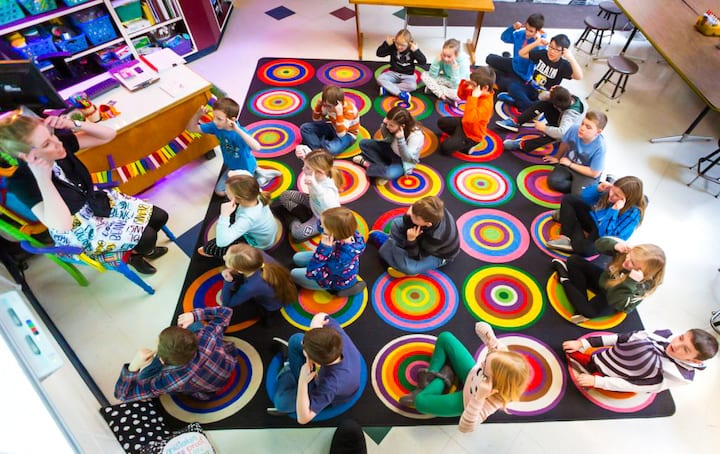 5. What is one thing that you do well that can help other art teachers?
I think a strength of mine is classroom management and organization. Obviously, days differ from each other, that's what keeps everything interesting! But, I do feel that the structure of our art room works well for students. Over the years, we have gained a lot of tricks! (Call and response, volume charts, our mantra, master painters, bean table rules, musical response with instruments, sketchbooks, early finishers) We have a good routine going and that helps our art room run smoothly. You can see a lot of my tips and tricks on the art teacher"infomercials" tab on my Instagram highlights!
---
WHAT YOU'LL LEARN
– The inspiration behind Sarah naming her website "Art Room Glitter Fairy" and how it relates to her classroom management
– Sarah's philosophy for teaching art and which projects she loves the most
– How she "reverse engineers" her curriculum
– How Sarah connects with each of her students on a daily basis and what she believes is her biggest challenge in the classroom
– Why therapy has so much value for art teachers and people in general
– What is the powerful mantra she says up to 7 times a day and why she uses it
---
LISTEN TO THE SHOW


---
LINKS & RESOURCES
Download Sarah's favorite mantra poster by clicking the button below. Add your name and email and we'll email it straight to you!
Watch Sarah's 2018 Wisconsin Art Teacher of the Year Video
Check out Art Room Glitter Fairy's Etsy, Redbubble, & Teachers Paid Teachers Account
Cassie Stephens: Painting my Why I Teach
You can visit Patty through Deep Space Sparkle on Facebook and Instagram
Patty Palmer At Home Instagram
Join the Sparklers Club waitlist HERE
support@deepspacesparkle.com