Family Art Nights…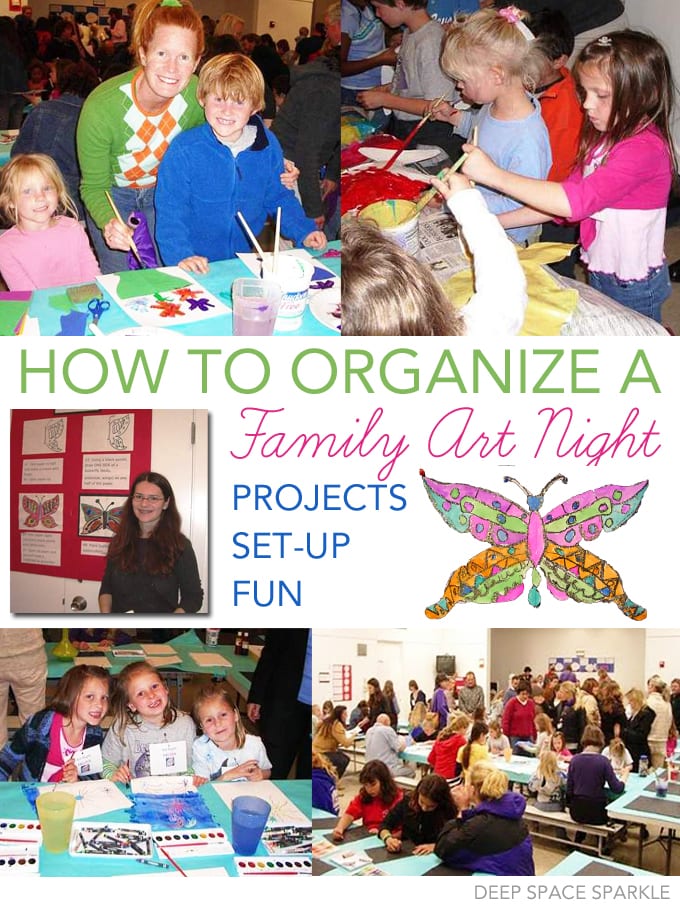 I am planning a Family Art Event at my school. We are planning to have different stations set up for kids and their folks to experiment with different art materials and have fun making art together as a school. Have you ever had an event like this at your school? If you have and have any suggestions or advice, I will listen with grateful ears! I am trying to collect information and tips from other art teachers who have done something like this before. If you ever have a moment to share something you have learned from hosting art events, I would be so appreciative – Lisa Miller 
I received this email from a reader asking how to organize a Family Art Night. I hadn't done one in years and wasn't even sure I could remember what I did, but I pulled up a few photos from my files and tried to re-create the art night for Lisa.
Why A Family Art Night?
Before I became an art teacher, I volunteered in my children's school helping classroom teachers with art lessons, ordering supplies and assisting with basic techniques. After a while, the principal asked me to organize a Family Art Night. We had science nights before but never an art night. We didn't even have regular art in the classroom, so I wondered what the benefit would be. But, it sounded like a great opportunity to showcase art, so I enthusiastically agreed. Our school was lucky to have a forward-thinking principal who believed in the value of art even though test scores dictated a much different agenda. Still, I wasn't quite sure what an "Art Night" would involve, and was a little hesitant with my ability to pull off an event where children and parents could experience art together. The principal offered up her staff (a combination of regular classroom teachers and student aids) and together we brainstormed on lesson possibilities.
Possible Art-Making Stations
Printmaking Station

: Etch foam with a dull pencil. Use a brayer to roll on paint. Print onto pre-cut 5″ x 7″ paper.
Watercolor and Oil Pastel Resist: Set out small pieces of paper, oil pastels and pans of watercolor paints and let kids free-paint.
Antique Flowers Watercolor Wash: Use oil pastels to draw a vase with flowers. Crumple paper to form wrinkles. Cover with watercolor wash.
Symmetrical Butterfly: Fold a piece of white paper in half, draw half a butterfly on one half with an oil pastel, fold over and press hard. Trace faint outline on other side and fill in with watercolor.
Stuffed Fish: Children select a pre-cut fish shape and staple paper together. Paint with bright colors and add glitter. (One teacher was anointed "The Glitter Queen" and sprinkled glitter on the wet paint. A large table was needed for this project as well as large vats of pre-mixed paints, large brushes and plenty of staplers!
Oil and Chalk Pastel Drawing: Children use oil pastels on black paper then smudge chalk pastels over top.
Symmetrical Vase with Stamped Flowers: Children cut a vase from pre-folded card stock and glue onto a small piece of paper. Using sponges (various shapes) dipped in paint, they stamped flowers and designs onto their paper. Here is a lesson link.
Play-Dough Color Wheel: Children blend colors using yellow, red and blue play dough.
I selected these lessons because I knew how to do most of them and I knew they could be explained to a teacher or volunteer in less than 5 minutes. It's important that you use small pieces of paper (12″ x 9″ or smaller) for most of the projects or else it can get expensive and will take the children longer time to complete the project.
How to Set-Up the Stations
I knew it would be difficult to stage actual art demonstrations as people needed to be able to come and go freely. So to make the art project assessable to everyone, I created demo boards. I drew or created the "steps" in the art project and created printable instructions. The steps were easy to follow for anyone. I have to send kudos' to the amazing teachers at my school as many helped prep for the projects. One teacher took a stack of tissue papers home and lovingly cut out thousands of "scales" for the stuffed fish project. Being able to glue tissue paper scales to the fish was very popular. Children (and parents) loved it.
Where to Store Art?
Once a child completed a project, what were they supposed to do with it? They couldn't carry it around as most of the projects were wet. This was the big question the staff had about the logistics of the evening. I assumed I would haul my drying racks into the cafeteria but of course, that was completely unreasonable.  One brilliant teacher (Amy!) suggested that we convert an unused portion of our cafeteria for art storage.
This is what she suggested: Lay colored sheets of work paper along floor (as long as you can make them…about 20 feet). Label the end of the paper: LAST NAME A-C, LAST NAME D-F, etc. When a child finished a project they took the wet paper out to the paper row and placed their art under the initial of their last name. Each row was a different color so the child could remember what color he was. The system worked beautifully.
Feedback I sent out invitations (the snail mail way) to school board members and parents inviting everyone to Family Art Night. It was an overwhelming success. It was delightful to see hundreds of parents and kids create art together. Parents who typically didn't participate in school events came as well as parents who attended everything. It was truly lovely. I'm not sure if I would do anything differently as the intention of the evening was pure: to bring art awareness to our school community.
I hope this helps, Lisa!
If any other art teachers have done anything similar, please weigh in. It'd be fun to hear different ideas and what worked and what didn't.
New here? Join our newsletter community and receive lesson updates, free drawing handouts and teaching tips twice a month. Click HERE to sign up.