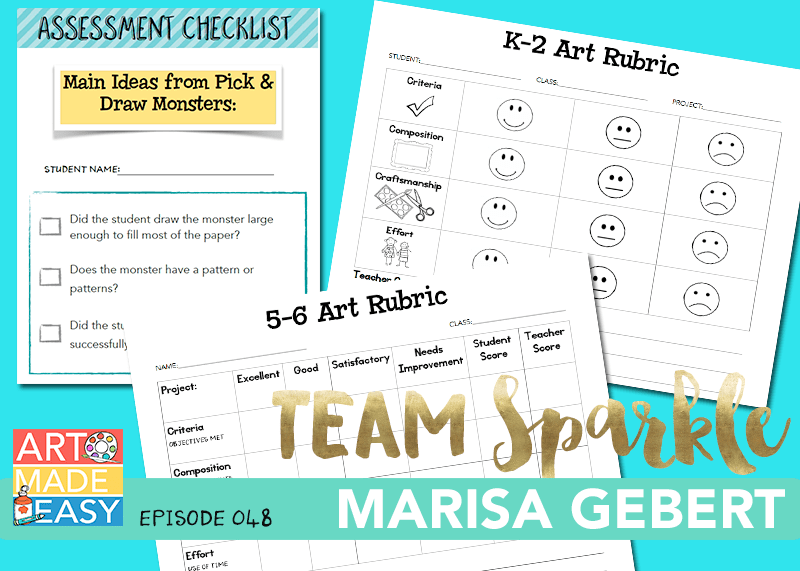 Marisa is a former K-8 art teacher from Georgia who was one of over 500 people who applied for a job as a standards writer for Deep Space Sparkle last Spring. Marisa helps teachers all over the world by providing documentation for all of the DSS lessons inside The Sparklers Members Club.
Life has changed a lot for Marisa, who went from working as an art teacher to staying home with her newborn so she could work from home. It's not always an easy transition but she moved through it beautifully. Her positive approach to life has allowed her to make the decisions that have been right for her family.
---
WHAT YOU'LL LEARN: 
How Marisa stuck with her love of teaching art, against the advisement of others
What grades and ages were more challenging for her than others
The various challenges of grading children's artwork
Why Marisa always chooses to do what she loves (and how to see the value in that)
How your goals and dreams can change with different seasons of your life
How taking risks led her to her happiness
Why finding time to create art for yourself is so important
---
LISTEN TO THE SHOW:
---
LINKS & RESOURCES:
Do What You Love, The Money Will Follow by Marsha Sinter
To see what a K-2 rubric looks like for one of our lessons inside the membership, feel free to  DOWNLOAD this FREE LESSON from THE MEMBERS CLUB:
INTERESTED IN JOINING THE SPARKLERS MEMBERS CLUB?
Public enrollment happens in August and January but occasionally, we have a VIP enrollment period for those on our wait list. To add your name to the waitlist, CLICK HERE.
TO HEAR MARISA IN PERSON, join us at our DSS LIVE! event on June 23-24th in Santa Barbara.

You can visit Patty through Deep Space Sparkle on Facebook and Instagram
Patty Palmer At Home Instagram
support@deepspacesparkle.com