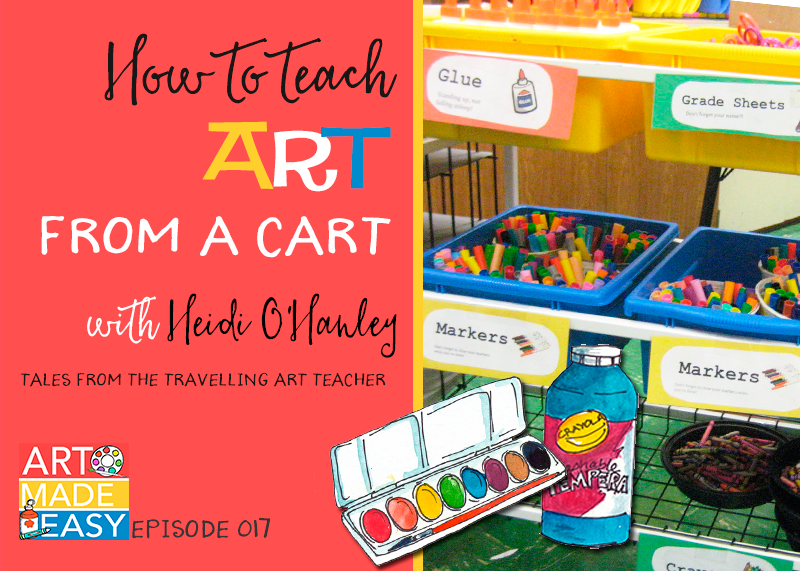 Do you teach art from a cart?
Or travel from school to school with your car packed with art supplies and resources?
Today's guest Heidi O'Hanley has spent most of her career traveling from school to school and teaching from a cart. It sounds impossible and maybe even a bit scary, but Heidi is here to help you.
Heidi shares what art projects are best, what art supplies to use and ways to make teaching art with little storage or space to work for you.
---
IN THIS EPISODE YOU'LL LEARN:
– What to do when your classroom has no water source, and how your students can play an active role in the solution
– Why communication is crucial when teaching art from a cart
– How using Google Drive, Share Point and Pinterest can help with lesson planning
– Helpful tips for when you're teaching at multiple schools
– What Heidi's current blog is all about and how she came up with the name and concept
– How using removable bins to hold supplies, how-to-draw books, resources & lessons plans makes traveling easier
– The top questions Heidi gets asked by others about this type of art teaching
– How to make clay project prep work when you are teaching art from a cart
– The best part about teaching art from a cart
– Why you should be proactive and set parameters before even starting a project
– Easy cart projects to do, as well as the ones that you'll find more challenging due to limitations
---
LISTEN TO THE SHOW


---
DOWNLOAD THIS FREE GUIDE
I created this guide for you to act as a checklist for things to consider when teaching from a cart, what supplies are great for cart use and what type of projects work really well.
Just click the yellow box below, enter your name and email and I will send you the free download to your email.
SHOW NOTES:
Deep Space Sparkle's tips for teaching art from a cart
Vincent Van Gogh's Cat
Camille and the Sunflowers
You Are My Work of Art
Why Is Blue Dog Blue?
Tar Beach
Tales from the Traveling Art Teacher
Monthly Mentor from NAEA https://www.arteducators.org
Heidi's favorite brands of air dry clay: Amaco
Patty's favorite air dry clay: Laguna air dry clay
Acrylic: Tricolor, Blick and Liquitex
Donna Staten's Pinterest Boards
Ezra Keats Books
CONNECT WITH HEIDI
You can reach out to Heidi on Facebook