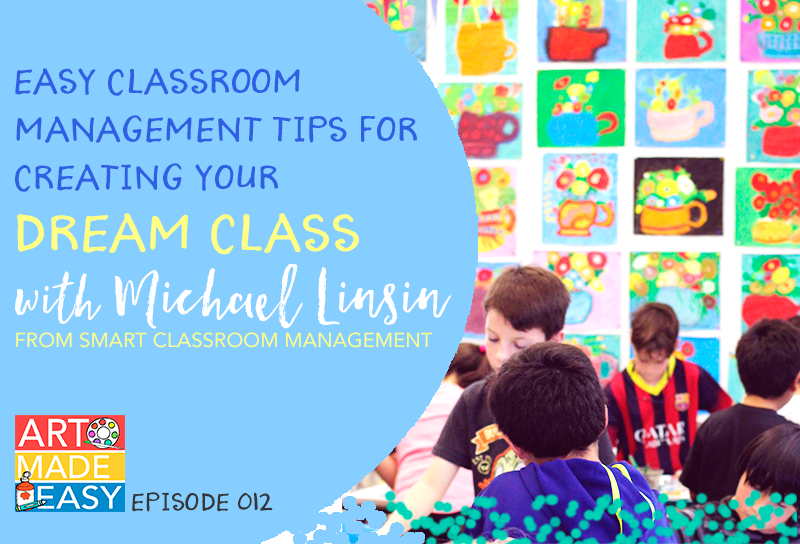 Do your students blurt out at random moments during your demonstrations? Do you have trouble getting kids to listen or take you seriously? Do you have children that always seem to be pushing your buttons? Does your clean-up routine border on chaotic?
I know that I've struggled with behavioral issues, stressful transitions and more than a few wild classes and I learned that unless I got those things under control, I wasn't able to be an effective teacher.
Although it may seem like achieving a happy balance between creating a consistent management philosophy and allowing freedom and creativity in your art room is next to impossible, I'm here to tell that it is completely doable.
Michael Linsin is the author of Classroom Management for Art, Music, and PE Teachers
 and the author of the blog, Smart Classroom Management has the magic touch. He seems to know intuitively how to transform chaos into calm.
A little word about the show…
Podcasting is not as easy as it may appear. There are lot of steps to setting up interviews, recording and ultimately producing each episode that inevitable something always goes wrong. In this case, I had a problem with the sound quality on my end of the recording. My podcast editor had to do some fancy tweaking to make this interview easy on your ears. So if you notice any weird transitions, you know why.
And as always, thanks for listening!
LISTEN TO THE SHOW


IN THIS EPISODE YOU'LL LEARN:
Why a classroom management plan is necessary and the most important element of the whole teaching process
How good classroom management can free you to be creative
How body language can be used to set the right tone in a classroom
Why having expectations of your kids is absolutely essential to creating your dream class
Why the story behind the activity is more important than the activity itself
The truth why 95% of classroom problems will disappear  with an effective management plan
The surprising things teachers do that unintentionally encourage bad behavior
The #1 tip Michael has for all teachers looking to implement his system
Here is an interview with Michael on Deep Space Sparkle 
Classroom Management for Art, Music, and PE Teachers
 on Amazon
Join Michael's weekly newsletter here
---