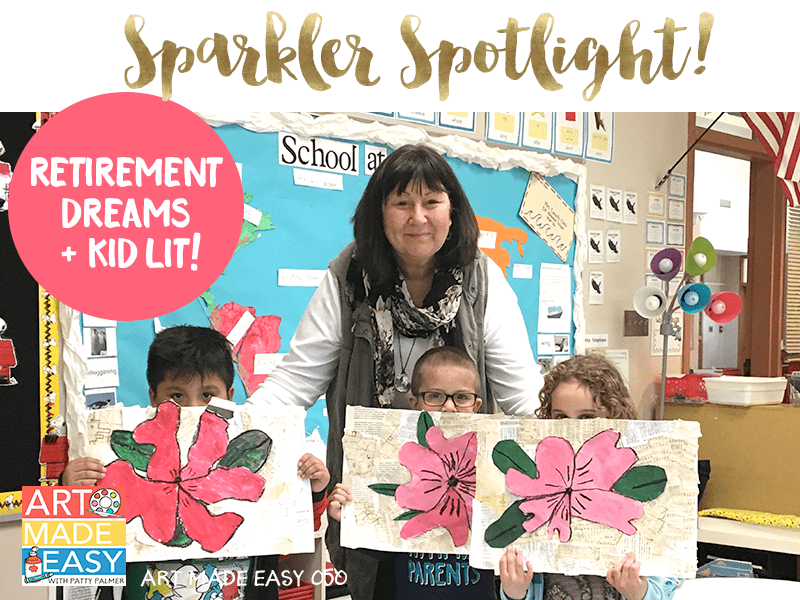 Today's episode is special. Deep Space Sparkle member, Gloria Mathews is the quintessential Sparkler: creative, sharing, and kind. She is always the first one to comment, cheer on and celebrate other's success in their journey as an art teacher.
Gloria is a retired classroom teacher who transitioned to teaching art a couple of days per week to her group of students in grades K-2.  Hear how she designed an art program that suited her lifestyle and goals and how you can do it, too.
Gloria and I chat about what makes a children's book successful, how to get started writing your own children's book and how letting go of one dream allows you to find the space to achieve another dream.
IN THIS EPISODE YOU'LL LEARN: 
How Gloria designed her life after retirement and how you can, too.
How text and illustrations play off each other when writing children's books
What is SCBWI and how it serves people who have an interest in writing children's literature
Why it is so hard to publish a picture book
How having a tribe of like-minded people fills you up
---
---
SHOW NOTES: 
Gloria's Facebook Page 
Eric Carl Website
Peter Reynolds Website
www.scbwi.org
Draw with Joan Miro
It's Never Too Late to Begin Again: Discovering Creativity and Meaning at Midlife and Beyond
by Julia Cameron (affiliate link)